Recommended
Recommended
Price Low to High
Price High to Low
New In
ZENITH
Pilot 44mm Stainless Steel and Leather Watch, Ref. No. 03.2410.4010/21.C722
ZENITH
DEFY El Primero 21 Chronograph 44mm Brushed-Titanium Watch, Ref. No. 95.9000.9004/78.M9000
ZENITH
Power Reserve 40mm 18-Karat Rose Gold and Alligator Watch, Ref. No. 18.2121.685/01.C498
ZENITH
El Primero Sport 45mm Stainless Steel and Rubber Watch, Ref. No. 03.2280.400/91.R576
ZENITH
Pilot Type 20 GMT 48mm Stainless Steel and Leather Watch, Ref. No. 03.2430.693/21.C723
ZENITH
El Primero Chronomaster 1969 42mm Ceramicised Aluminium and Rubber Watch, Ref. No. 24.2041.400/21.R576
ZENITH
Defy El Primero 21 Land Rover Limited Edition Automatic Chronograph 44mm Titanium and Rubber Watch, Ref. No. 97.9000.9004/01.R787
ZENITH
Elite Classic Automatic 40.5mm 18-Karat Rose Gold and Alligator Watch, Ref. No. 18.3100.670/01.C920
ZENITH
Defy El Primero 21 Chronograph 44mm Ceramic and Rubber Watch
ZENITH
Elite 6150 42mm Stainless Steel and Alligator Watch, Ref. No. 03.2270.6150/01.C493
ZENITH
DEFY El Primero 21 Chronograph 44mm Brushed-Titanium, Alligator and Rubber Watch, Ref. No. 95.9002.9004/78.R584
ZENITH
DEFY El Primero 21 Automatic Chronograph 44mm Brushed-Titanium Watch, Ref. No. 95.9005.9004/01.M9000
ZENITH
El Primero 410 42mm Stainless Steel and Alligator Watch, Ref. No. 03.2097.410/51.C700
ZENITH
El Primero Chronomaster 45mm Ceramicised Aluminium and Rubber Watch, Ref. No. 24.2041.400/21.R576
ZENITH
Pilot Type 20 Rescue Automatic 45mm Stainless Steel and Leather Watch, Ref. No. 03.2434.679/20.1010
ZENITH
Elite Moonphase Ultra Thin Automatic 40.5mm Stainless Steel and Alligator Watch, Ref. No. 03.3100.692/01.C922
ZENITH
Pilot Cronometro TIPO CP-2 Automatic 43mm Stainless Steel and Leather Watch, Ref. No. 03.2240.4069/21.C803
ZENITH
Pilot Cronometro TIPO CP-2 Automatic 43mm Bronze and Nubuck Watch, Ref. No. 29.2240.405/18.C801
ZENITH
DEFY Classic Automatic 41mm Brushed-Titanium Watch, Ref. No. 95.9000.670/51.M9000
ZENITH
Elite Classic Automatic 40.5mm Stainless Steel and Alligator Watch, Ref. No. 03.3100.670/02.C922
ZENITH
Elite Moonphase 40mm Stainless Steel and Alligator Watch, Ref. No. 03.2143.691/01.C498
ZENITH
El Primero 42mm Stainless Steel and Alligator Watch, Ref. No. 03.2080.400/01.C494
ZENITH
Elite Chronograph Classic 42mm Stainless Steel and Alligator Watch
ZENITH
DEFY Classic Automatic 41mm Brushed-Titanium, Alligator and Rubber Watch, Ref. No. 95.9000.670/51.R584
ZENITH
Pilot Type 20 Extra Special Automatic 40mm Bronze and Nubuck Watch
ZENITH
Elite Ultra-Thin 40mm Stainless Steel and Alligator Watch, Ref. No. 03.2010.681/21.C493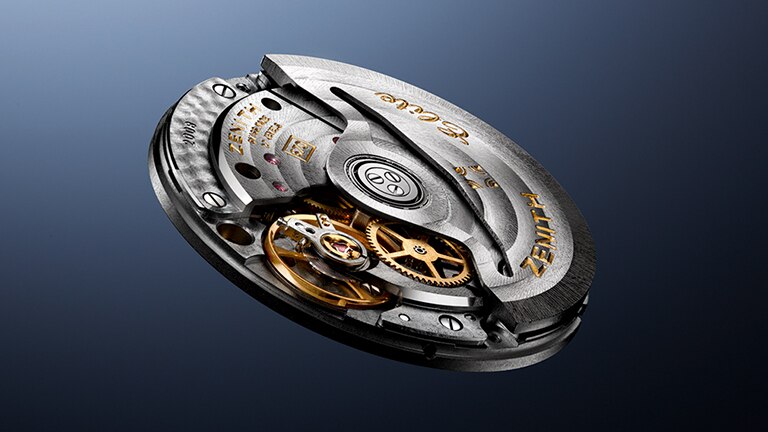 The Modern Marvel
It's not all about El Primero chez Zenith. The in-house movement that powers its slimmer, time-only timepieces (occasionally with a moonphase) is the pristine Elite automatic. Conceived in the 1990s, it was the first movement in Switzerland to be engineered using computer-aided design technology.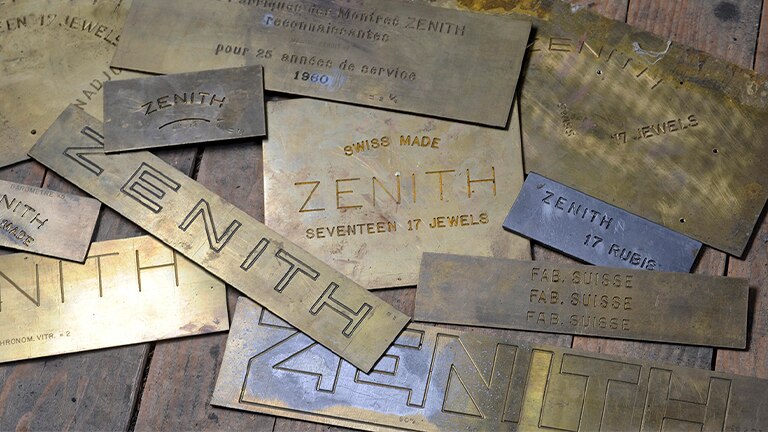 The Merciful Mutiny
In 1975, the order came from Zenith management to cease all production of mechanical watches and make way quartz technology. This meant scrapping the relatively young El Primero chronograph's tooling. The foreman of Workshop 4, Mr Charles Vermot, had other ideas. Refusing to see a decade of his life tossed on the scrap heap, he furtively stored everything – tools, presses, cutters, cams, plans, the lot – in a dusty attic, for later retrieval. And thank goodness he did.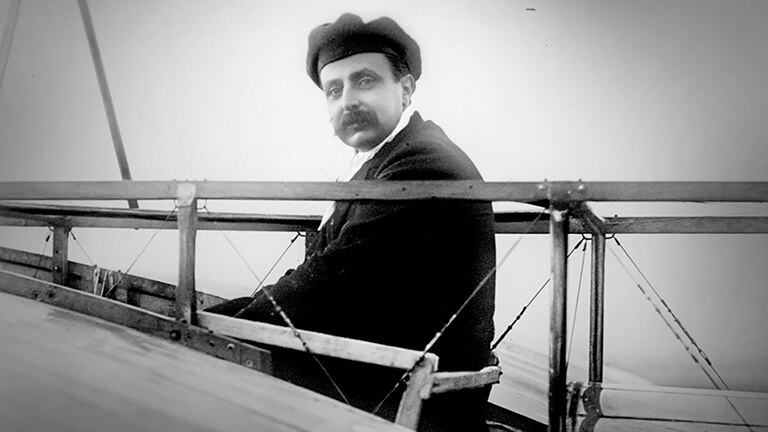 The Prize-Winning Flight
In 1909, the Daily Mail offered a £1,000 prize to the first man to fly the English Channel in a heavier-than-air, powered aircraft. That man was French inventor Mr Louis Blériot, who flew from France in his own Type XI monoplane. On landing atop the White Cliffs of Dover after struggling through early-morning fog, his Zenith watch, "which I use regularly, and cannot recommend it highly enough", told him the flight had taken 36 minutes and 30 seconds. Zenith's pilot credentials were cemented, with the current collection's Pilot Type 20 designed in Mr Blériot's honour.