The History
Master horloger Mr Roger Dubuis started his eponymous brand in 1995, a blip in time compared with most other top-flight Swiss maisons, but one that has still afforded his brand ample opportunity to turn traditional watchmaking on its head – quite literally in the case of its gravity-defying multi-tourbillons. Now owned entirely by the Richemont Group and occupying a state-of-the-art manufacture on the edges of Geneva, Roger Dubuis truly is fine watchmaking's enfant terrible, where the worlds of King Arthur, steampunk and glam-noir collide, while conforming to the Poinçon de Genève's strict standards of craftsmanship. Influences as diverse as architecture, haute couture and, more recently, motorsports have all come to bear on Roger Dubuis' unabashedly disruptive 21st-century creations.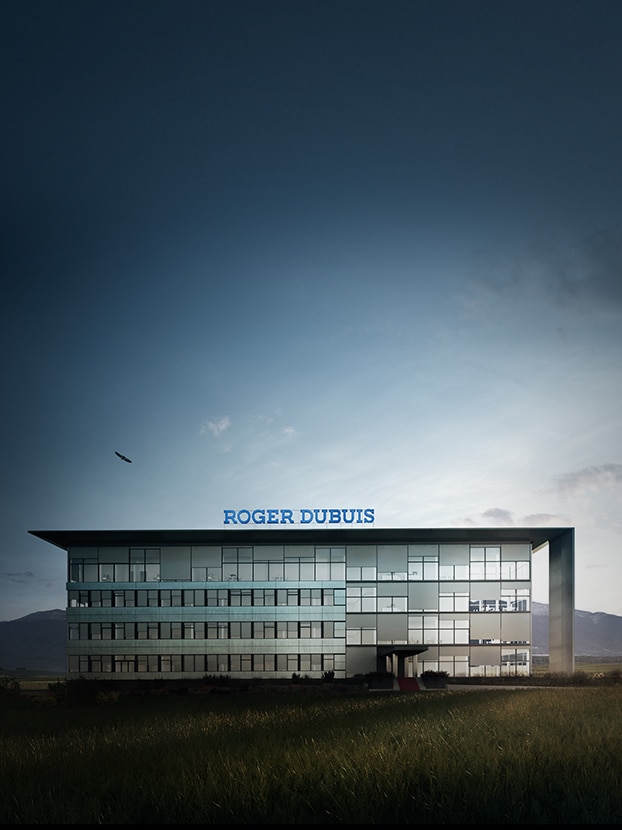 A young brand, sure, but a Roger Dubuis on the wrist is worth two centuries of tradition – and two more of daring innovation.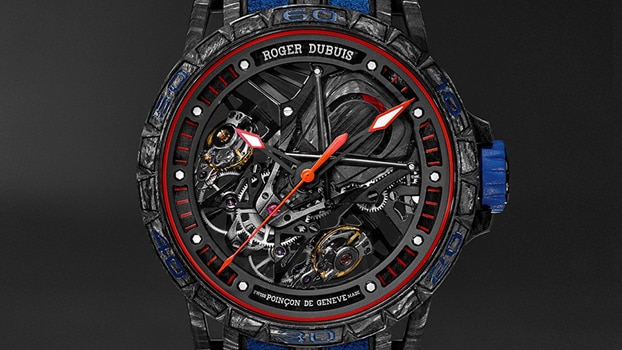 Excalibur Aventador S
This tribute to Lamborghini's top-of-the-range supercar is driven by the Duotor movement. Inspired by Lambo's monstrous V12 engine, it features not one but two ticking balance wheels tilted in an engine-like V configuration so that each wheel evens out the other's rate errors.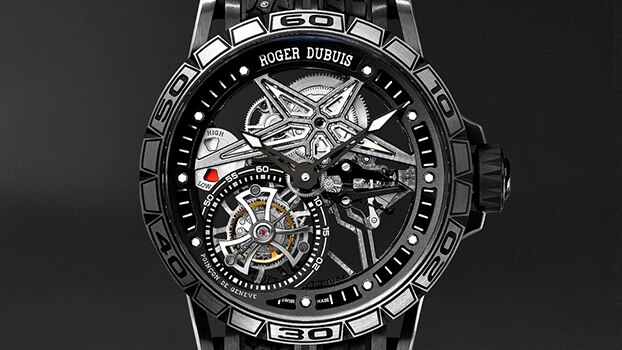 Excalibur
Yes, that Excalibur, as in the legendary sword offered up to King Arthur on the Island of Avalon. Roger Dubuis' most adventurous and bombastic collection has become its calling card, embracing not only the watchmaker's most elaborate designs, but also its top haute complications and even the fast and furious partnerships with Lamborghini and Pirelli.
Just over two decades might not be long by Swiss watchmaking standards, but Roger Dubuis' micro-mechanical magicians have crammed a lot in.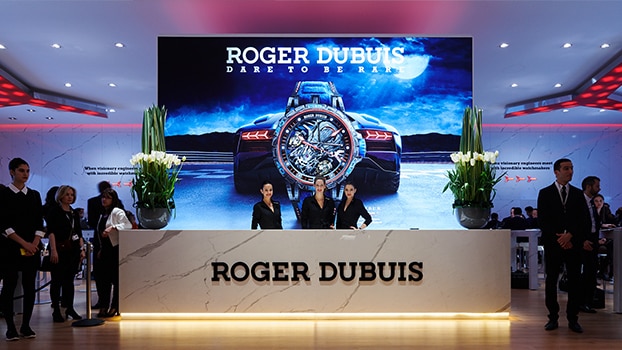 Visitors to January's SIHH watch fair in Geneva are left slackjawed every year as they step from the eggshell tones of the hallways into Roger Dubuis' immersive pavilion. One year, the centerpiece was a vast bald eagle clutching a CHF1 million watch in its talons. The next, it was a legion of stovepipe-hatted steampunk watchmakers, then it was a shattered version of Superman's Fortress of Solitude, all fractured white marble and neon-magma fissures.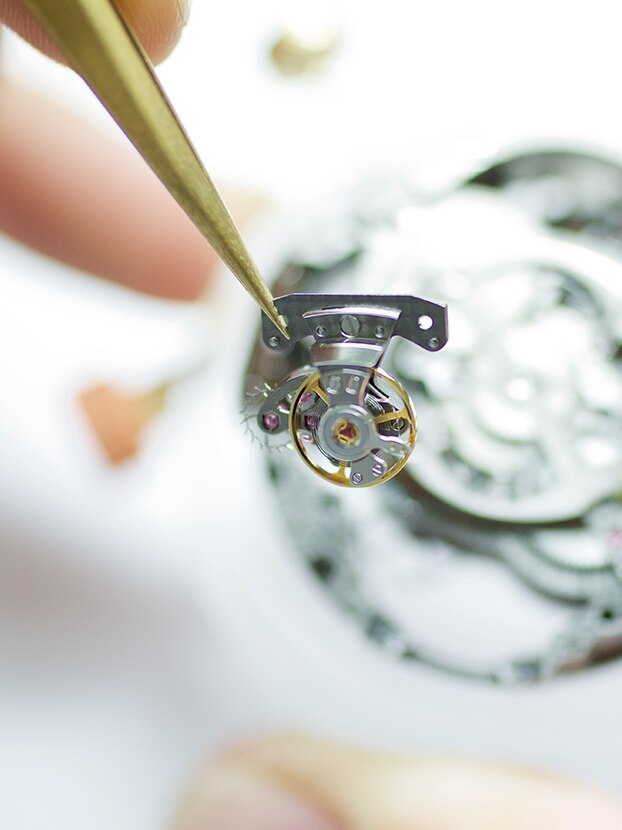 Sealing The Deal
Of the 30 million watches produced in Switzerland each year, only 24,000 bear the Hallmark of Geneva, or Poinçon de Genève – and a good proportion of those also bear Roger Dubuis' logo on the dial. The watchmaker devotes 40 per cent extra work to these special pieces, with every single movement part hand-finished and decorated to extraordinary standards, in keeping with the traditional crafts cultivated in Geneva centuries ago. The countless polishing techniques look stunning for a start, but also reduce friction and ensure exceptional durability.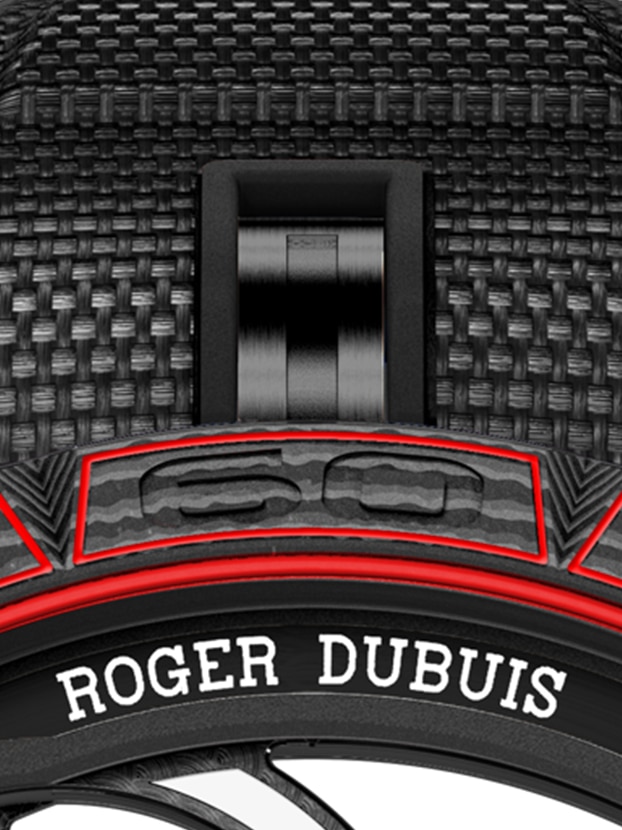 Burning Rubber
As if teaming up with Pirelli tyres wasn't high-octane enough, Roger Dubuis is now official partner with Lamborghini and its Squadra Corse motorsports division – a highly appropriate hook-up, given the two brands are arguably the most extremely engineered and outrageously designed proponents of their respective fields. If you're a "gentleman driver" on the Super Trofeo one-make race series, chances are you wear an Excalibur at the wheel of your all-carbon Huracán EVO…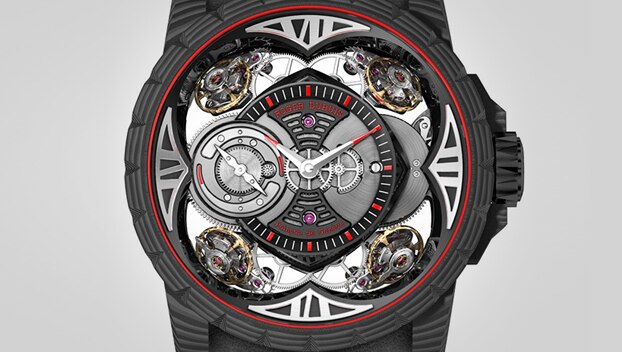 Quatuor
The aforementioned Excalibur Aventador S' Duotor features half of the Quatuor's four differential-linked tilted balance wheels – an audacious launch even for Roger Dubuis back in 2003. What the tourbillon compensates for over 60 seconds, Quatuor achieves instantly.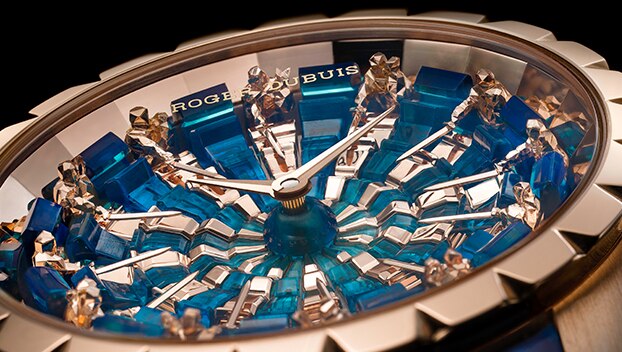 Knights Of The Round Table
Twelve individually hand-sculpted, rose-gold knights sit around King Arthur's legendary Round Table in one of Roger Dubuis' most spectacular creations. In between them, a mesmerising mosaic of 3D enamel baguettes – all adding up to 45 hours' work.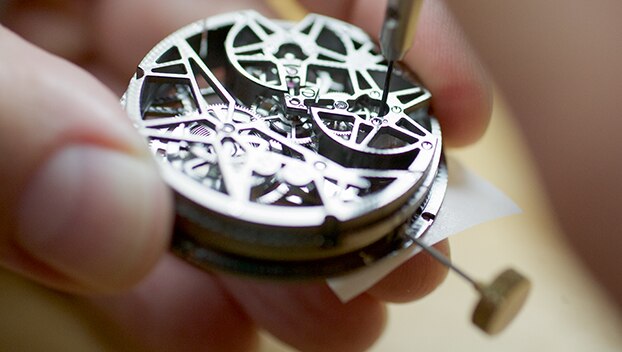 Double Tourbillon
Amazingly, the bestselling Roger Dubuis is the six-figure Double Tourbillon, an extraordinary technical achievement that's not only skeletonised for maximum mechanical impact, but mounted on a single underlying bridge to give the impression its tourbillon carriages "fly".
---
---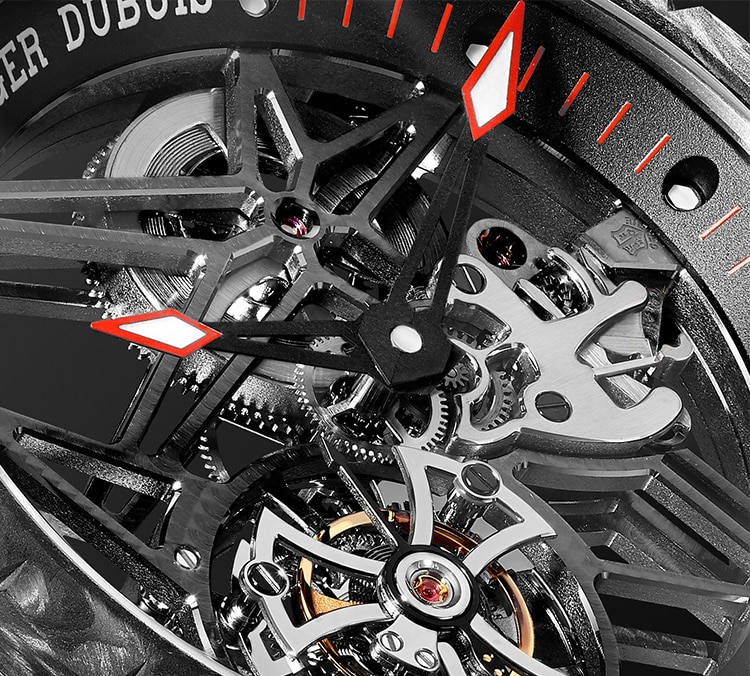 WANT TO SEE MORE?
This is just one of the many luxury watch brands currently available on MR PORTER. Click below to explore the full range.