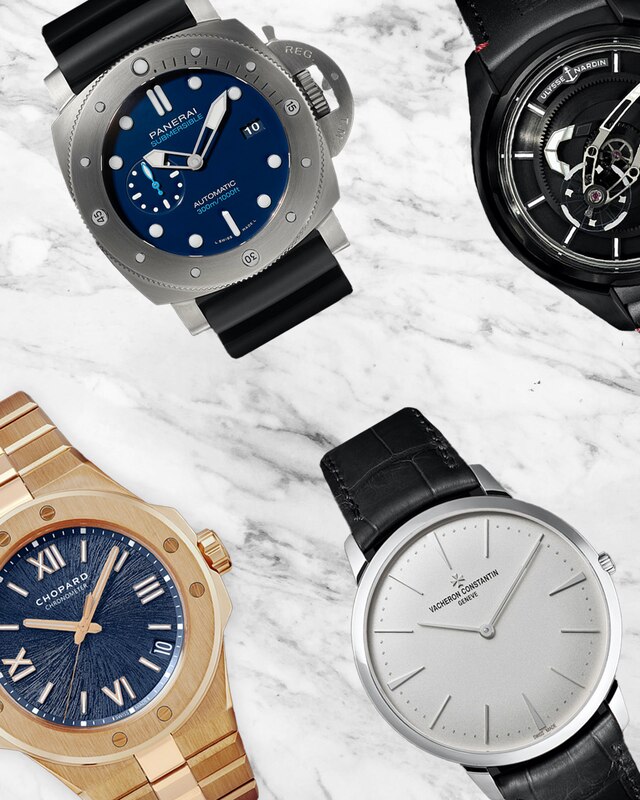 3 MINUTE READ
Five "Big Time" Watches For The Moment You've Made It
21 September 2021
You may have recently read Mr Josh Sims' excellent essay on the notion of a watch as status symbol. If not, please do. It's a fascinating read, drilling into just how the nuances of modern life, complete with the performative structures of social media and changing stereotypes about professional and social hierarchies have had an effect on what message we're sending out when we strap a timekeeping device to our wrists. It prompted us to suggest some watches from MR PORTER's current collection that speak to the various new "types" of status watch: here are five timepieces that broadcast quite different signals – from the unabashed to the understated.
01.
The gold watch
For some of us, nothing will ever replace the sheer impact of an all-gold watch, quite literally a heavyweight option. If it feels like too much of a throwback move, know that Chopard's Alpine Eagle is made from ethically sourced gold.
02.
The "if you know" flex watch
To the untrained eye, a simple steel watch with a green dial and no branding. To those in the know, a white gold-cased perpetual calendar from H. Moser & Cie., one of Switzerland's most respected indie watchmakers. A watch to broadcast your success only to those as well-informed as you.
03.
The stealth signature watch
Call this the "nothing left to prove", a watch so heavily refined only the absolute essence remains. Uncluttered, unfussy, unpretentious, the Patrimony exists outside fashions and trends. Another white-gold number for that ultimate stealth move.
04.
The cutting-edge titanium watch
A watch for 21st-century successes, this. The Freak's design could only have come about in recent years, relying as it does on cutting-edge tech and manufacturing. At its heart, though, it's still resolutely mechanical.
05.
The iconic diving watch
An all-time icon – the Panerai Submersible – elevated with a BMG-Tech case, a watch that's both a prized possession and a tool that can survive daily punishment. Not every symbol of success has to be a delicate dress watch.