The History
An armoured jellyfish with micro-mechanics for brains; a flying Lamborghini Dinky toy retro-fitted by Mad Max; cyborg frogs piloting flying saucers… Mr Maximilian Büsser's "& Friends" enterprise has, in the short space of 15 years, redefined how to display the time. Having cemented his reputation at Harry Winston as a highly prescient collaborator – his groundbreaking Opus series boasts alumni such as FP Journe and Urwerk's Mr Felix Baumgartner – Mr Büsser launched MB&F in Geneva's Old Town in 2005, wooing 85 investors and co-conspirators with his mantra of "a creative adult is a child who survived".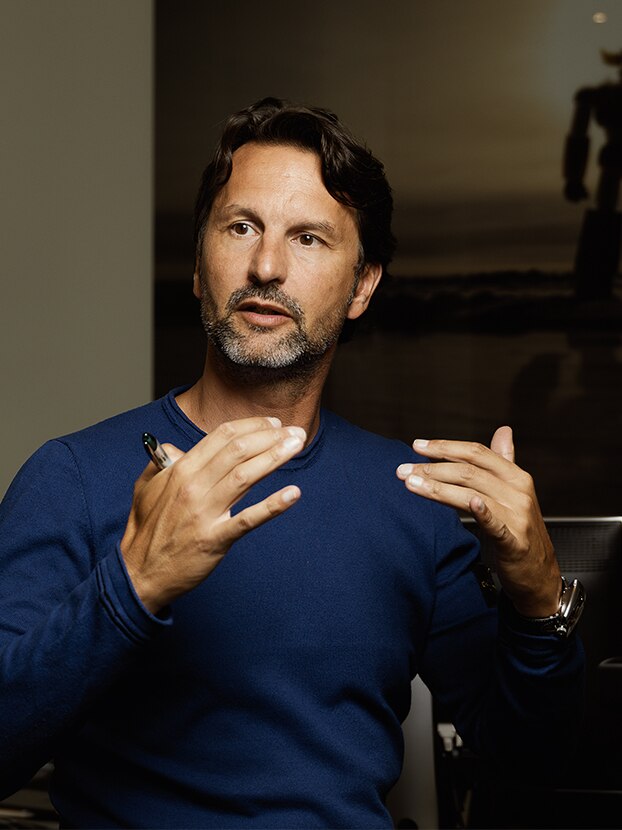 You can never second-guess what MB&F will do next. Its time-telling machines are like nothing else on the market and, despite their alien forms, crafted to the highest standards of traditional Swiss horology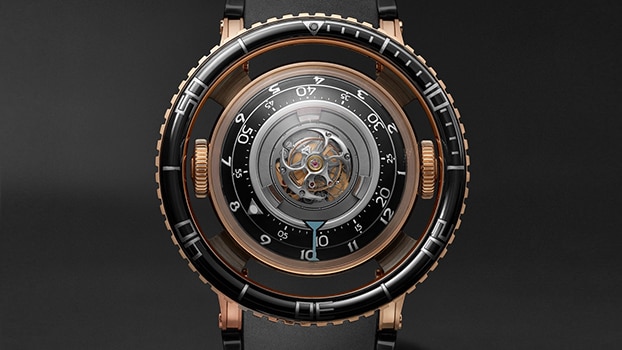 Horological Machine No.7
It's easy to understand HM7's nickname. Where jellyfish have a radially symmetric ring of neurons for a brain, the so-called Aquapod has radially symmetric rings displaying hours and minutes, topped by a pulsing flying tourbillon, which pirouettes inside a biomorphic dome. What's more, like so many marine invertebrates, HM7 glows in the dark.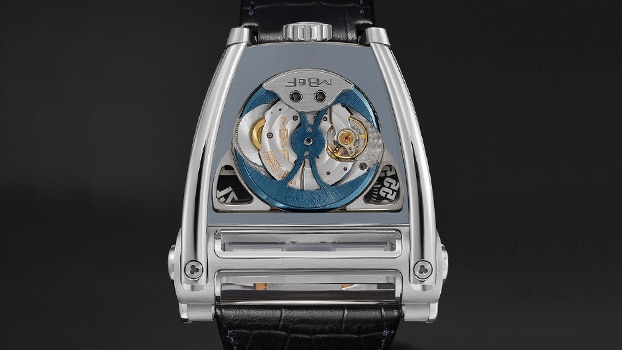 Horological Machine No.8
The cars of the Can-Am racing series were 'MB&F' to a tee – virtually unrestricted, with an "anything goes" approach to performance engineering. This tribute takes the driver's watch display – refracted sidelong by an optical prism, for hands-on-the-wheel reference – then adds roll bars and a Manga-inspired battle-axe of a winding rotor.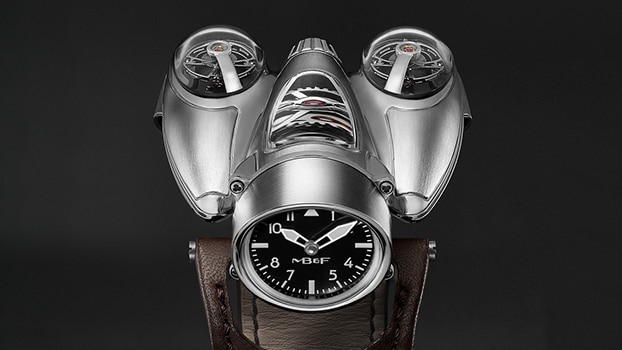 Horological Machine No.9
The post-war Jet Age and boom in automotive creativity all come to bear on this extraordinary timepiece. Powered by a bespoke Y-shaped movement featuring two ticking balance wheels that even out each other's errors via a planetary differential, it's the curvilinear case that's the thing, melding Buick's 1948 Streamliner with de Havilland's twin-fuselage Venom fighter.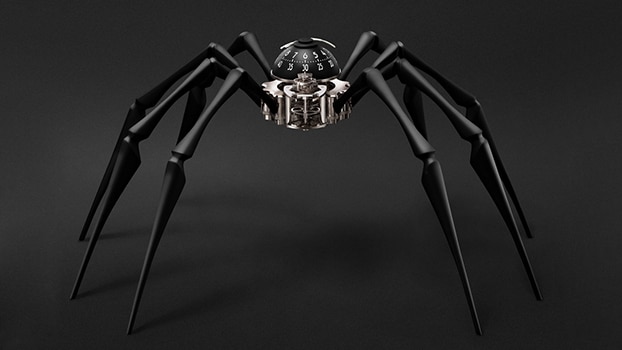 Arachnophobia
One of MB&F's closest collaborators is Switzerland's last remaining high-end clock maker, L'Epée 1839. Together, a veritable menagerie of weird and wonderful, living and breathing objets_ _have inter-bred over the years. This fully articulate table clock, as sinister and fascinating as the creature it represents, resides as happily on your wall as your sideboard.
Octopod
Less arachnid and more cephalopod, this MB&F x L'Epée co-creation doesn't just mount a ticking movement on eight articulated legs – it mounts the mechanics onto the minutes hand itself, essentially rotating its own baseplate 360 degrees every hour. What's more, like a ship's clock, the whole assembly is mounted on gimbals, tilting back and forth as the minutes hand orbits.
Balthazar
You'd expect L'Epée and MB&F's 8kg roboclock – switchable between friendly droid and cyborg skull – to be named in keeping with T-1000, C-3PO or HAL 9000. But instead, this could be Mr Büsser's most personal project yet, as it resurrects the biblical name bestowed upon every eldest Büsser son for over five centuries of his family history.
MB&F's wild imagination, coupled with talent and inspiration, means that the brand is constantly embarking on new adventures and wacky side projects
"We are deconstructing traditional horology to reconstruct it as 3D, kinetic sculpture," Mr Büsser says of his watches. This creative approach has led to MB&F establishing the M.A.D.Gallery in Geneva's Old Town, a mesmerising showcase of all things aesthetic and kinetic. Featured artists have included Mr Frank Buchwald and his glowing, Mr HR Giger-esque Nixie Machines, plus Mr Chicara Nagata, who spends 7,000 hours on each of his handcrafted motorbikes.
Legacy And Legitimacy
To certain stuffy purists, MB&F's creations don't rank as "proper watchmaking" – a snobbery that rankled Mr Büsser enough to launch the more classically styled Legacy Machine line in 2011, applying 19th-century aesthetics and hand-finishing techniques to his sci-fi mechanics. "We weren't talking the same language as the rest of the industry," Mr Büsser says. "Now, everyone can see how our craftsmanship bears comparison to the big boys."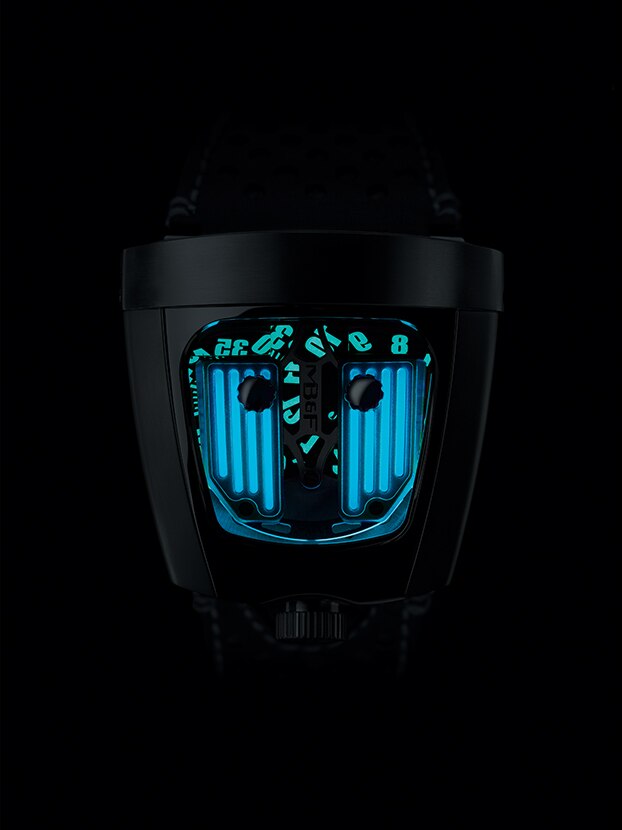 Northern Light
If you're going to collaborate with anyone on "lume", Mr James Thompson is your man. Under the moniker Black Badger, the Sweden-based Canadian artist creates beautiful sculptures using the luminescent qualities of strontium aluminate paint. What better way to celebrate MB&F's 10th anniversary than to light-up its HMX driver's watch with three glowing special editions: Radar Green, Phantom Blue, and Purple Reign?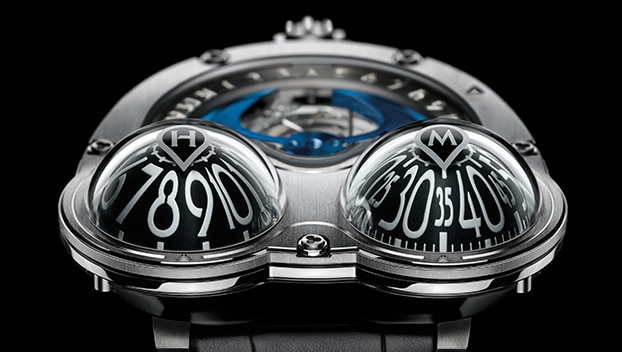 Bug Eyes
The HM3 Frog of 2010 was the start of MB&F's biomorphic evolution – all down to its bulging hours and minutes "eyeballs". These paper-thin domes (just 0.5g each) are machined from solid aluminium, rotating within sapphire crystal – flawlessly polished to avoid disconcerting magnification.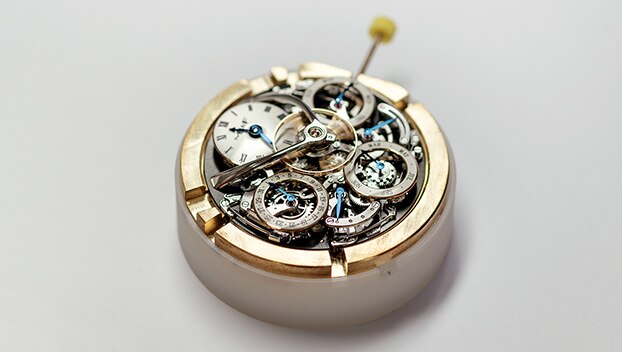 Dates, Remembered
The LM Perpetual is MB&F's most revolutionary yet, thanks to indie watchmaker Mr Stephen McDonnell and his genius twist on the "always correct" perpetual calendar: a mechanical processor that defaults to a 28-day month rather than 31, adding extra days as required, rather than skipping them and risking jammed gears.
Prismism
Released at the height of quartz technology's newfangled reign of the 1970s, the Amida Digitrend used a prism to refract its flat-mounted disc display 90 degrees to the side, for easy reference at the driver's wheel. Now proudly mechanical, MB&F's homage deploys optical-grade crystal, which also magnifies the numerals by 20 per cent.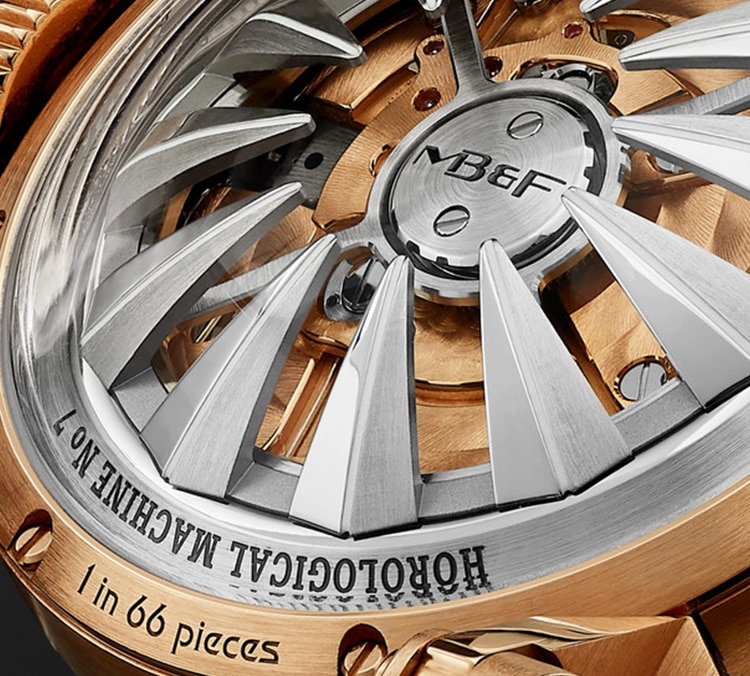 WANT TO SEE MORE?
This is just one of the many luxury watch brands currently available on MR PORTER. Click below to explore the full range.