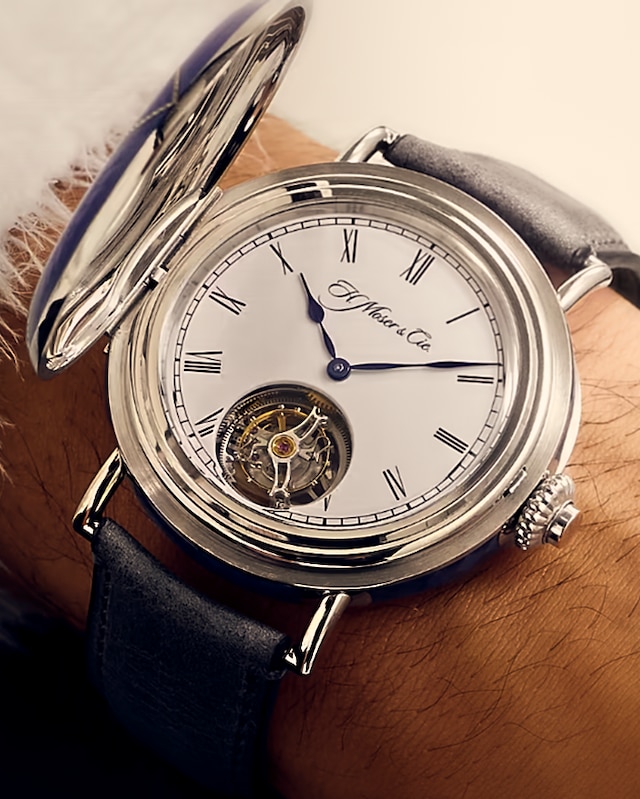 3 MINUTE READ
Five Ultimate "Old-Money" Watches
29 May 2023
For better or worse, the "old money" look has been picking up a lot of heat recently. We can't ignore that the very concept is laden with stigma and structural inequality, so perhaps it's best to focus on the aesthetic without aligning yourself too closely with any problematic social attitudes of a bygone age. Take the class, leave the classism, if you like. Because the top end of today's watch market is well served with references that tap into the character of a post-industrialist tycoon-turned-philanthropist. Here we present five watches with dignity, detail and a certain sepia-tinged sensibility that are guaranteed to have you googling "detachable shirt collars" and rooting around for shoe polish.
01.
Andersen Geneve Jumping Hours
Nothing epitomises the era like this 40mm yellow-gold jumping-hours design, with the majority of the dial space given over to a beautiful, hand-engraved guilloche pattern. The window at the top shows the hours, while the subdial at six o'clock displays the minutes. You're too important to need to know anything else.
02.
Bovet Monsieur Bovet
"Hand made by masters for punctual gentlemen", reads the text engraved around the inner edge of this Bovet masterpiece, inspired by 18th-century pocket watches. So faithful is the adherence to its source material that the watch is double-sided, with a blue enamelled guilloche pattern on the reverse, and can be worn on a chain or used as a desk clock.
03.
Vacheron Constantin 1921
The Vacheron Constantin 1921 is known for its distinctive angled layout, whereby the dial is rotated through 45 degrees. It was supposedly designed for the first generation of gentlemen drivers, for better legibility as they piloted their Hispano-Suiza or Frazer Nash. There's compelling evidence the truth is more prosaic, and they were derived from converted pocket watches, but you cannot argue with the 1921's idiosyncratic appeal.
04.
H. Moser & Cie. Heritage
Inspired by some of the earliest watches made under the Moser name, many of which were sold in the pre-revolutionary Russian court, this is a majestic tribute to craftsmanship and the sheer indulgence of the decorative arts. The case is fully engraved and enamelled, opening at the press of the button within the crown to reveal a pristine white dial and hand-finished tourbillon.
05.
Chopard L.U.C Quattro Spirit 25
Another jumping-hours model. But where the Andersen Geneve sits in the cigar room, brandy in hand, this Chopard looks out of an office high in the Chrysler building, all three-piece pinstripes and gleaming Oxfords. A watch for a true captain of industry, its single hand tracks the all-important minutes as the hours are displayed in the window at six o'clock.