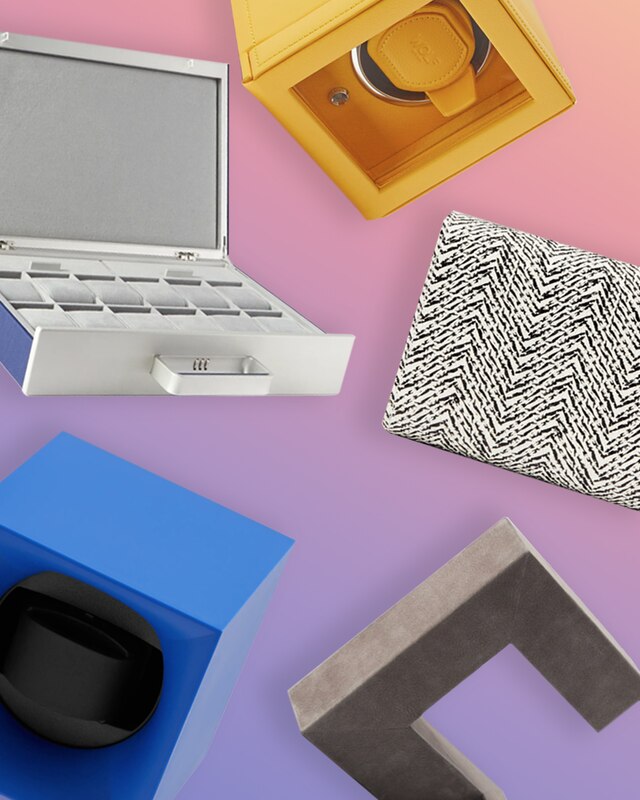 3 MINUTE READ
Five Options That Prove Watch Storage Doesn't Have To Be Dull
19 May 2022
You will have noticed that watches, recently, have become bolder and more expressive than they have been for decades. It's great to see so much diversity and character on our wrists, but what about when we take them off? Exciting watches need storage to match. Your travel case, watch roll or winder doesn't have to be plain, especially when what's inside it certainly isn't. Here are five storage options for the exuberant collector.
01.
Rapport London Marlow Watch Roll
Shedding your old watch roll? Rapport London's Marlow snake-effect single-watch holder is the perfect summer holiday solution. Happily, no actual snakes gave their skins for this leather, which our resident herpetologist tells us is reminiscent of an eastern black king snake.
02.
SwissKubiK Startbox ABS Winder
Fun fact: SwissKubiK's Startbox ABS winders are made from acrylonitrile butadiene styrene. Sorry, that's not the fun part. It's the same plastic used to make Lego bricks. We can confirm that the winding motor inside is an industry-standard 1,800 rotations per day number, not a Lego Technic one. Which is reassuring, but also kind of a shame.
03.
Charles Simon McKenzie Travel Case
Charles Simon's cases, constructed as they are from aluminium and carbon fibre, with a combination lock to boot, look like the kind of thing Mr Tom Cruise would jump out of a window for. With 12 of your watches inside, we hope you'll never have to do the same.
04.
WOLF Cub Watch Winder
Yes, you do need a lemon-yellow watch winder in your life. Because it's fun, that's why. Too often, winders feel like practical tools that need to be excused. Make a feature of it, we say. It's breathing life into your pride and joy, after all.
05.
Charles Simon Hudson Watch Stand
Why leave your watch lying on the nightstand, at the mercy of a wayward swipe or spilt glass of water, when you could dangle it jauntily from this suede-clad cubist arm? If the lume's any good, it'll double as a bedside clock, too.