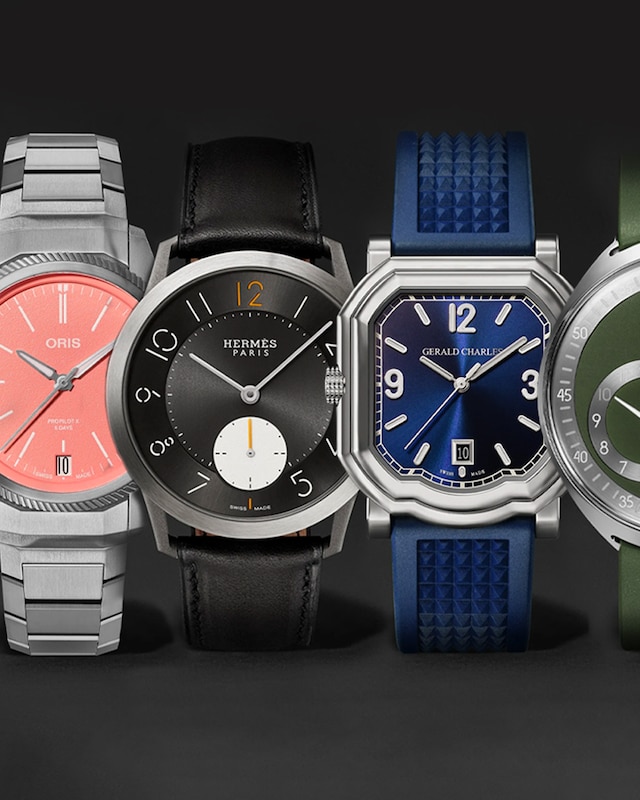 3 MINUTE READ
Five Titanium Watches For Any Budget
18 April 2022
If you saw our recent coverage of Watches and Wonders, you'll know we declared that, after decades on the rise, titanium watches have well and truly come to dominate. And not just for hard-wearing sports watches, but at the highest levels of craftsmanship. The advantages of titanium are well-known: it's light, strong and hypoallergenic. It carries all the right connotations of high-tech manufacturing and modernity, and it's a viable alternative for dressier works of haute horlogerie, too. Plus, it's a less ostentatious option than gold, more wearable than platinum and, ironically, sidesteps the hype around top-end stainless steel models. Here are five timepieces that show titanium is an option for any kind of watch.
01.
Oris ProPilot X
Rather than cleaving to design ideals advanced in the age of the Spitfire, Oris presented the Pro Pilot X as an aviation watch for the stealth-fighter generation. Titanium was the obvious material choice – its matte finish and slinky bracelet hits all the right technical notes while providing a balanced contrast to the bold dial colours.
02.
Hermès Timepieces Slim d'Hermès Titane
The practical virtues of titanium won't be lost on a watchmaker as thorough and conscientious as Hermès Timepieces, but the primary reason the Slim d'Hermès now exists in titanium is to present a more contemporary, youthful and understated vision of what a dress watch can be. The sandblasted case finish, stencilled numerals and orange details call to mind a Scandinavian art gallery or airport.
03.
Gerald Charles GC Sport
Gerald Charles' rationale with the GC Sport follows that a watch can have all the sporty statistics sewn up – 100m water resistance, a tough titanium case and all-weather rubber strap – while still being dressed for dinner. The slimline case is just 8mm thick, and the left-handed crown makes it more comfortable for active pursuits.
04.
Ressence X MR PORTER Type 1 Slim X
Ressence, with a stated mission to make watches unfettered by the industry's traditional past, could hardly have ignored the appeal of titanium. It cases every watch the Belgian brand has released, including this exclusive Type 1 Slim X, produced to mark MR PORTER's 10th anniversary in 2021.
05.
Bovet Récital 21 Perpetual Calendar
Exactly the kind of high-end adoption of titanium we mentioned: a decade ago, perpetual calendar watches such as Bovet's Récital 21 only came in precious metals. Now you have the same flawless mechanics and finishing, in a more approachable and frankly cooler case, that's brought to as fine a polish as any white-gold equivalent.