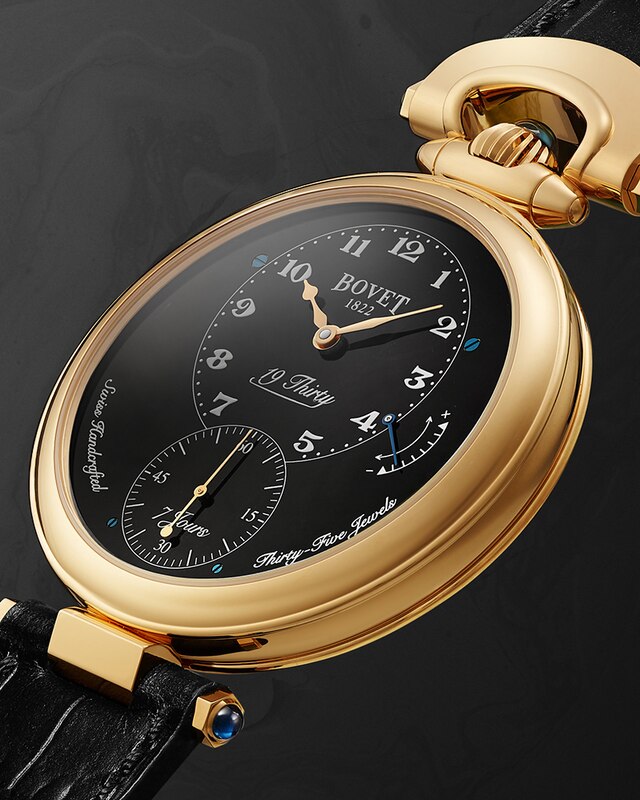 4 MINUTE READ
Handmade In A Mountain Castle: The Magic Of Bovet Watches
21 December 2020
Watches can be functional. But they can also be glorious, effusive expressions of art and craft that elevate timekeeping to an almost magical level. That's what you get from Bovet: where others may opt for the horological equivalent of a pop song, its watches are orchestral compositions. Michelin-starred banquets rather than home-cooked classics. You get the idea. By necessity, such creations are rare – whether a limited edition or not, all Bovet watches are produced in small volumes at their atelier, housed in an actual castle overlooking the Swiss village of Môtiers. 
01.
Recital 29 Moon-Phase
A spellbinding example of Bovet's combined expertise in the decorative arts and traditional watchmaking prowess. The engraved, lacquered-guilloché dial is among the very best in the world, and is expertly contrasted by the stylised moon-phase indicator below it – the depiction of a complication that requires readjustment just once every 122 years.
02.
19Thirty Fleurier (Rose Gold)
Named for the era when pocket watches made way for wristwatches, and styled to evoke that transition with the crown at 12 o'clock, surmounted by a "bow" that forms part of the lug, every piece in the hand-wound 19Thirty Fleurier collection boasts a seven-day power reserve. This model in particular stands out for its black-lacquered dial and rose-gold case.
03.
19Thirty Fleurier (Stainless Steel)
In stainless steel the 19Thirty Fleurier takes on an altogether different character. Possibly Bovet's most simple watch, it nevertheless augments the trademark split of hours, minutes and seconds with a hand-engraved motif, with a cut-out window for the power reserve at three o'clock. Rather fittingly, the inscription reads "made by the hands of experts for punctual gentlemen".
04.
Recital 27
A multiple time-zone watch like no other – this is clearly for the man travelling in style rather than braving the elements. A pair of open-worked city discs show the time in two additional time zones, with your local time marked on the main, central set of hands. A moon-phase indicator at six o'clock rounds out a real showstopper of a watch.
Shop The Bovet Collection