The History
This Swiss-French brand was founded in the early 1990s by creative director Mr Bruno Belamich and CEO Mr Carlos Rosillo. From the start, it was clear from the monochrome utility of Bell & Ross' watches – modelled on instruments for military professionals – that there would be little messing about. And this austere aesthetic quickly won it fans, most notably Chanel, which took part ownership of the company in 1997. This investment allowed the brand to establish a top-flight facility in La Chaux-de-Fonds, Switzerland, where it has been ever since. It makes watches for bomb-disposal squads and fighter pilots, yes, but also design-savvy urbanites who are in love with Bell & Ross' crisp, contemporary cool.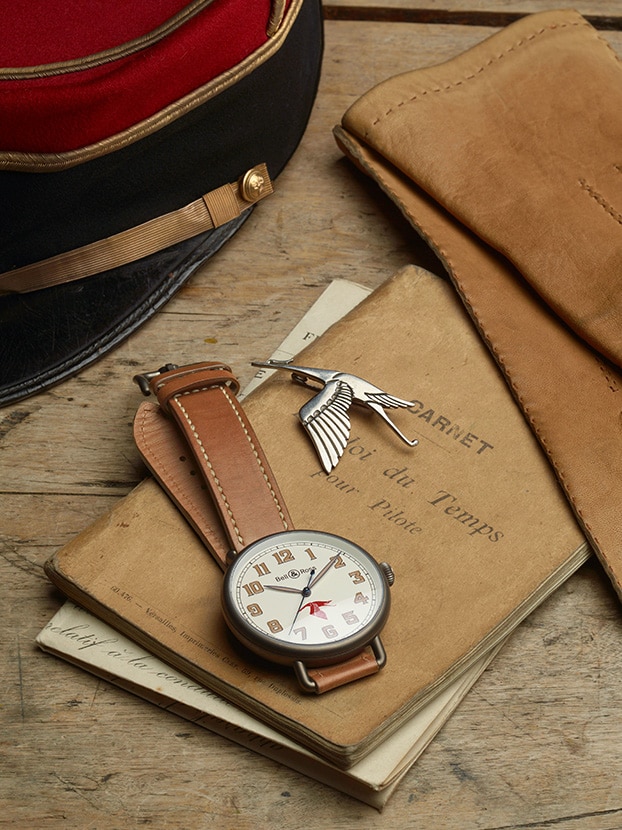 Bell & Ross' watches contain precision Swiss movements and are proven-in-the-field, fully endorsed by naval air force pilots and Swat operatives alike. Meanwhile, their inherent utility is led by a design nous that many other tool watches lack.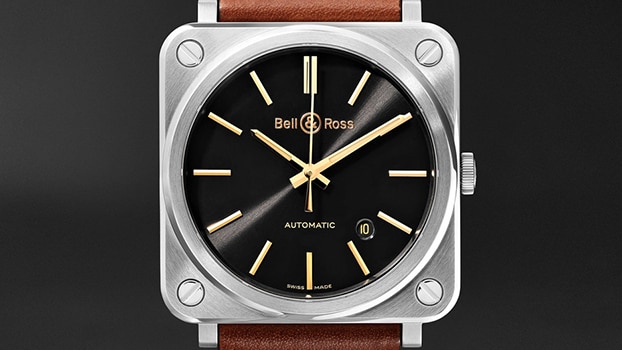 BRS
There's nothing to be ashamed of: should even the BR 03's 42mm-wide heft of squareness be too much, let alone the 46mm of the BR 01, the 39mm BR S is still a formidable instrument to strap on, while slipping as easily beneath a tailored French cuff as a khaki flight suit. For the man of action, on his day off.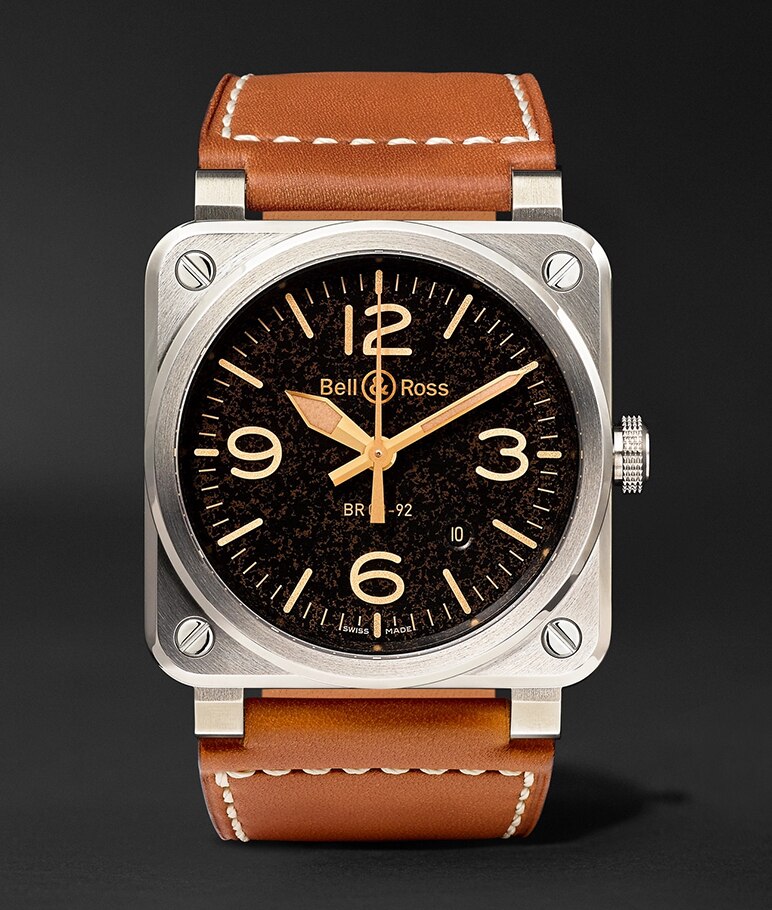 BR03
Bell & Ross's first, and most iconic square watch is of course the BR 01, which launched in 2005. At 46mm though, it's a hefty piece. Those looking the same cockpit-inspired aesthetic at a more palatable 42mm size should look to the BR 03 range, which includes the brand's very first diving watch, the BR 03-92.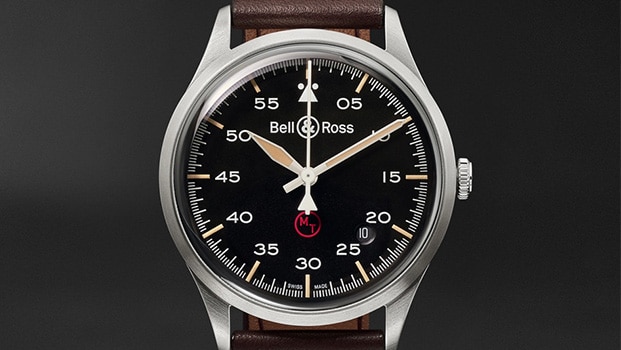 BR V
Not all military personnel are hurtling along at Mach 1 in a Rafale jet. Back at the officers' mess, a more elegant look is encouraged, with a vintage poise, the V of the title. Gorgeous royal-blue and ivory dials bring a sartorial swagger.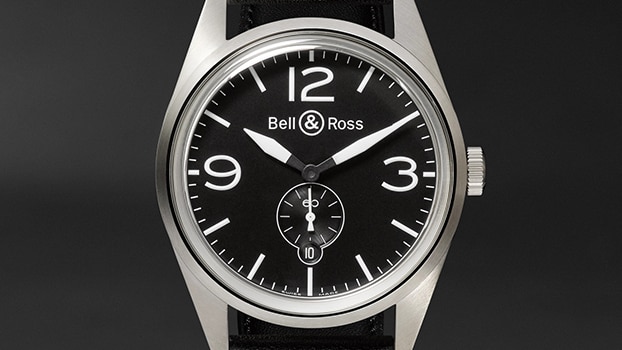 BR 123
As clean and crisp as you could want, the purest of Bell & Ross' oeuvre has one foot in the military watch's heritage, but feels utterly contemporary thanks to clever details such as the oversized nine, 12 and three, plus a date window outlined by a dimple in the small seconds subdial numerals.
Vintage military inspiration, decidedly modern aesthetics. Scroll down to learn more about the world of Bell & Ross.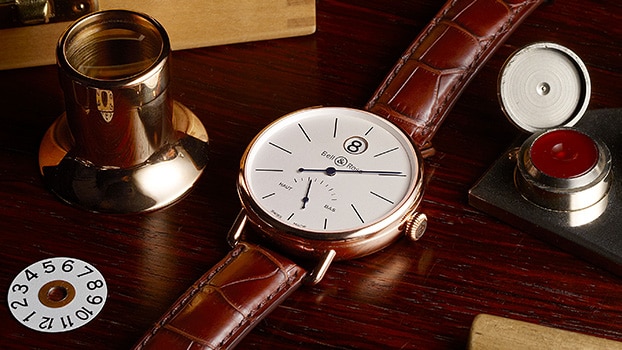 In 2002, Bell & Ross launched the world's first jumping hours digital display watch with a power reserve indicator. As well as being a masterstroke of classical simplicity, the Vintage 123 Heure Sautante was the result of a collaboration with Swiss-watch maestro Mr Vincent Calabrese, one of the few members of the esteemed Académie Horlogère des Créateurs Indépendants.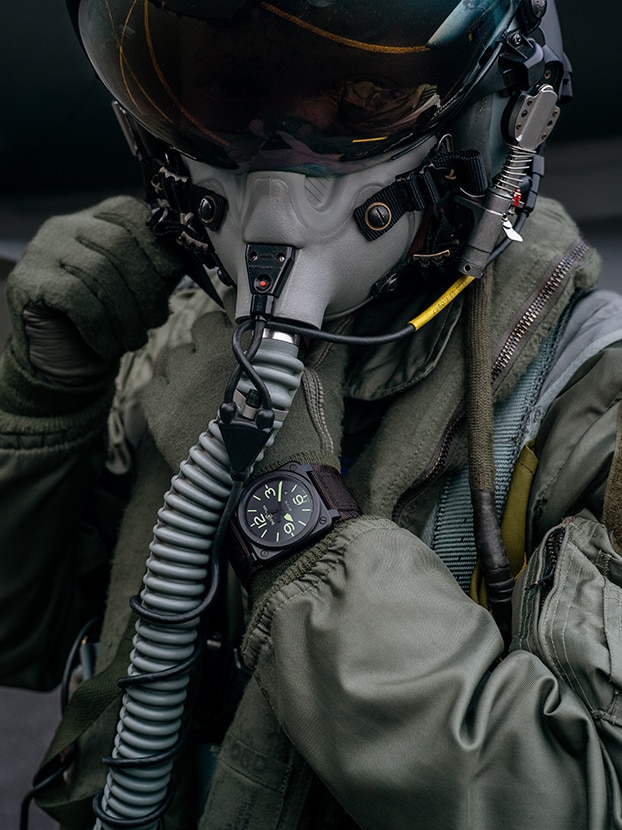 A Force To Reckon With
The Parisian Gendarmerie's elite Raid (Swat) unit and the French civilian bomb-disposal squad have Bell & Ross watches as essential kit. But the brand's most ringing endorsement comes from the French Air Force. At the request of the Chief of Staff, the Instrument BR 03 Type Aviation was chosen out of three tendered brands, both as an emblem and as meeting the tough requirements of their fighter pilots.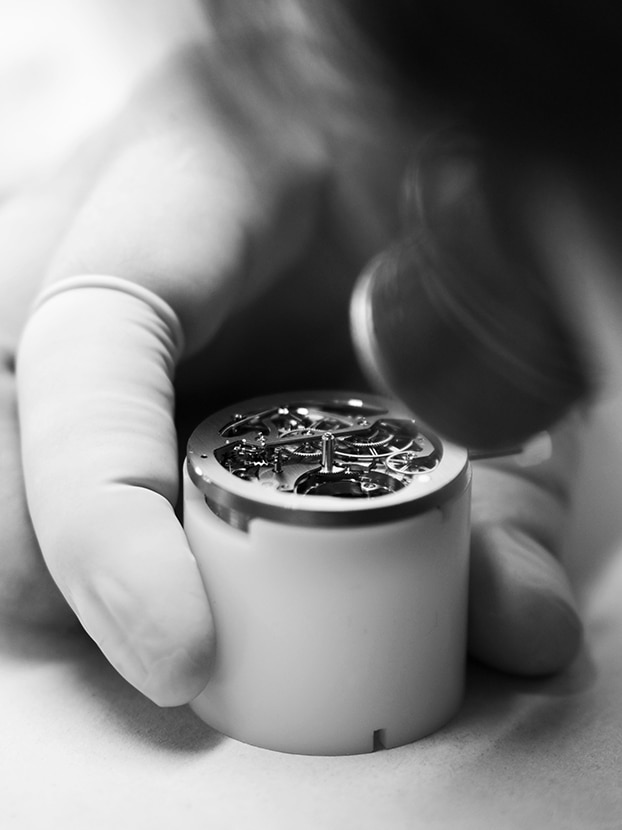 The Technical Expertise
Making high-end watches is notoriously difficult. That's why they cost so much. And it's even harder to convince customers when you're not a dyed-in-the-wool traditional brand. Both of which explain Messrs Belamich and Rosillo's initial hook-up with Frankfurt-based Sinn, a respected tool watch and cockpit instrument manufacturer that uses high-quality Swiss mechanical movements from ETA and Sellita. The early Space 1 chronograph– identical to Sinn's Sinn142 – was Bell & Ross' first big hit.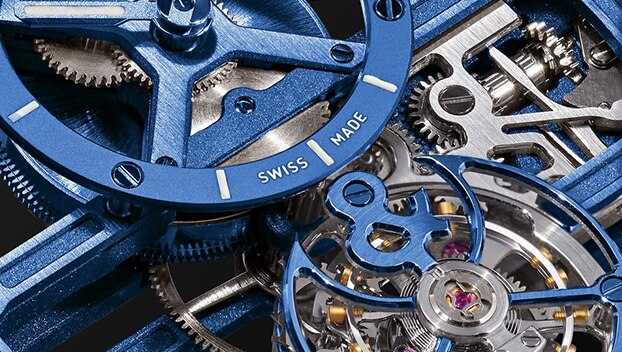 True Transparency
Bell & Ross' highly conceptual BR-X1 is one of a kind. Entirely encased in anti-reflective sapphire glass, the Swiss-made calibre BR-CAL.288 movement is bathed in light, the intricate inner workings of every cog, wheel and jewel showcased like a work of kinetic art.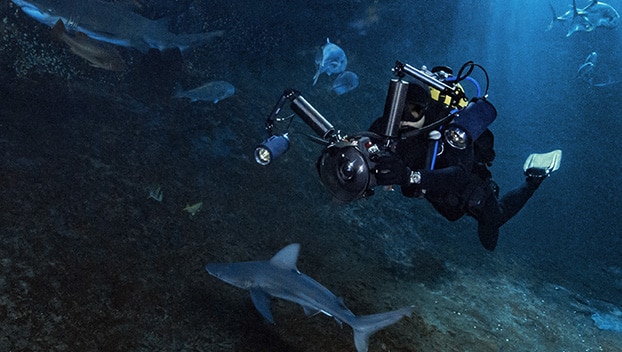 The Deep Dive
Bell & Ross' Hydromax scored a place in the Guinness Book Of World Records in 1997, with a proven water resistance all the way down to 11,100m. Why not a rounded-down 11,000? The deepest place on Earth is the Mariana Trench in the Pacific Ocean, which is 11,035m deep.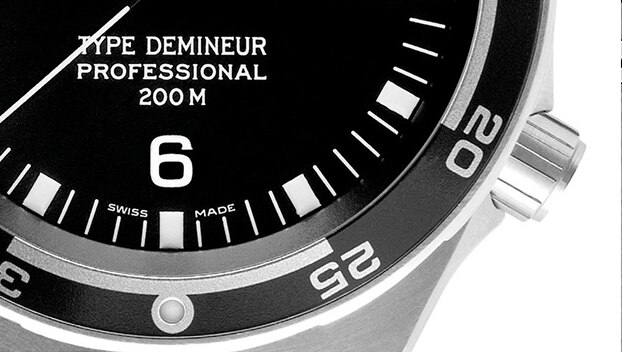 The Faraday Cage
Designed specifically for the electromagnetically sensitive needs of bomb-disposal squads, Bell & Ross' Type Démineur kept things totally amagnetic, thanks to its soft-iron inner Faraday cage case, plus an outer steel case that's resistant to becoming magnetised itself.
Watch The Video: Bell & Ross
In this episode of MR PORTER's Tick Talk video series, Mr Robin Swithinbank talks us through the Parisian brand's key pieces.
---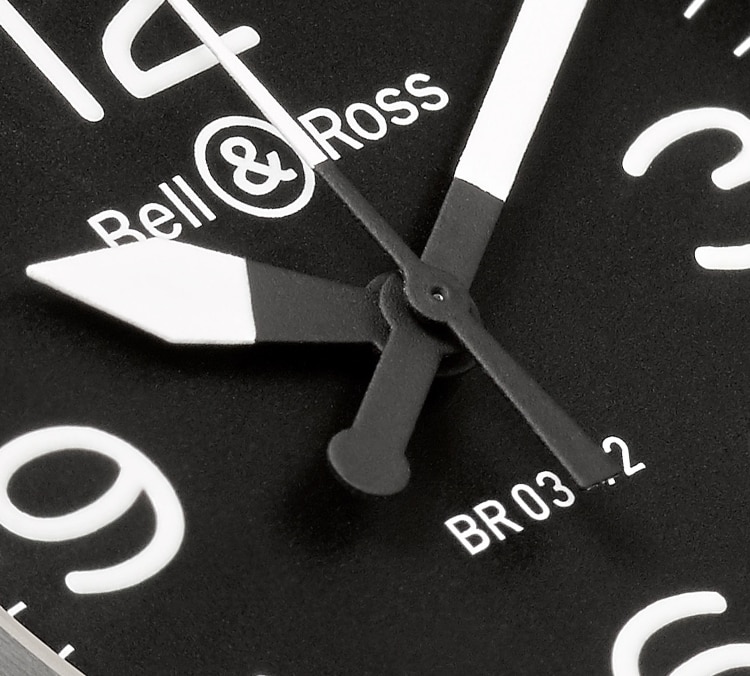 WANT TO SEE MORE?
This is just one of the many luxury watch brands currently available on MR PORTER. Click below to explore the full range.