Recommended
Recommended
Price Low to High
Price High to Low
New In
BELL & ROSS
BR 03-94 Multimeter Limited Edition Automatic 42mm Ceramic and Rubber Watch, Ref. No. BR0394-SW-CE/SRB
BELL & ROSS
BR V2-92 Orange Limited Edition Automatic 41mm Stainless Steel Watch, Ref. No. BRV292-O-ST/SST
LIMITED EDITION
BELL & ROSS
BR V2-92 Full Lum Limited Edition Automatic 41mm Stainless Steel and Rubber Watch, Ref. No. BRV292-LUM-ST/SRB
BELL & ROSS
BR 03-92 Radiocompass Limited Edition Automatic 42mm Ceramic and Rubber Watch, Ref. No. BR0392-RCO-CE/SRB
LIMITED EDITION
BELL & ROSS
BR V2-92 Orange Limited Edition Automatic 41mm Stainless Steel and Rubber Watch, Ref.No. BRV292-O-ST/SRB
BELL & ROSS
BR 05 Blue Gold Automatic 40mm 18-Karat Rose Gold and Rubber Watch, Ref. No. BR05A-BLU-PG/SRB
BELL & ROSS
BR 03-92 Diver Limited Edition Automatic 42mm Bronze and Leather Watch, Ref.No R0392-D-BR-BR/SCA
LIMITED EDITION
BELL & ROSS
BR 03-94 PA94 Patrouille de France Limited Edition Chronograph Ceramic and Rubber Watch, Ref. No. BR0394-PAF1-CE/SRB
LIMITED EDITION
BELL & ROSS
BR 05 Automatic Chronograph 42mm Stainless Steel Watch, Ref. No. BR05C-BL-ST/SST
BELL & ROSS
BR 05 Automatic Chronograph 42mm Stainless Steel Watch, Ref. No. BR05C-BU-ST/SST
BELL & ROSS
BR 03-92 Diver Automatic 42mm Stainless Steel and Rubber Watch, Ref. No. BR0392-D-WH-ST/SRB
BELL & ROSS
BR 05 Automatic 40mm Stainless Steel and Diamond Watch, Ref. No. BR05A-BL-STFLD/SST
BELL & ROSS
GMT Automatic 41mm Stainless Steel Watch, Ref. No. BR05G-BL-ST/SST
BELL & ROSS
GMT Automatic 41mm Stainless Steel and Rubber Watch, Ref. No. BR05G-BL-ST/SRB
BELL & ROSS
BR 03-92 Limited Edition Automatic 42mm Ceramic and Leather Watch, Ref. No. BR0392-CG-CE/SCA
LIMITED EDITION
BELL & ROSS
BR 03-92 Red Radar Limited Edition Automatic 42mm Ceramic and Rubber Watch, Ref. No. BR0392-RRDR-CE/SRB
BELL & ROSS
+ Alpine F1 Team BR 03-94 Limited Edition Automatic Chronograph 42mm Stainless Steel and Rubber Watch, Ref. No. BR0394-A521/SRB
LIMITED EDITION
BELL & ROSS
BR 05 Black Steel and Gold Automatic 40mm 18-Karat Rose Gold and Steel Watch, Ref. No. BR05A-BL-STPG/SSG
BELL & ROSS
BR 03-92 Diver Blue Automatic 42mm Stainless Steel and Rubber Watch, Ref. No. BR0392-D-BU-ST/SRB
BELL & ROSS
BR 03-92 Golden Heritage Limited Edition Automatic 42mm Stainless Steel and Leather Watch, Ref. No. BR0392-GH-ST/SCA
LIMITED EDITION
BELL & ROSS
BR V3-94 A.5.21 Limited Edition Automatic Chronograph 43mm Stainless Steel Watch, Ref. No. BRV394-A521/SST
LIMITED EDITION
BELL & ROSS
BR 05 Automatic Chronograph 40mm Stainless Steel and Rubber Watch, Ref.No. BR05C-BUBU-ST/SRB
BELL & ROSS
BR V2-93 Automatic 41mm Stainless Steel Watch, Ref. No. BRV293-BLU-ST/SST
BELL & ROSS
BR V2-93 GMT Automatic 41mm Steel Watch
BELL & ROSS
BR 03-92 Grey Lum Automatic 42mm Stainless Steel and Leather Watch, Ref. No. BR0392-GC3-ST/SCA
BELL & ROSS
BR V2-94 Bellytanker 'El Mirage' The Rake x Revolution Limited Edition Automatic Chronograph 41mm Bronze and Leather Watch, Ref. No. BRV294-RR-BR/SCA
LIMITED EDITION
BELL & ROSS
BR 03-92 Diver Black Matte Automatic 42mm Ceramic and Rubber Watch, Ref. No. BR0392-D-BL-CE/SRB
BELL & ROSS
BR 03-92 Nightlum Automatic 42mm Ceramic and Leather Watch, Ref. No. BR0392-BL3-CE/SCA
BELL & ROSS
Phantom Automatic 42mm Ceramic and Rubber Watch, Ref. No. BR0392‐PHANTOM‐CE
BELL & ROSS
BR 03-92 Golden Heritage Automatic 42mm Steel and Leather Watch, Ref. No. BR0392‐ST‐G-HE/SCA
BELL & ROSS
BR V2-93 GMT Automatic 41mm Stainless Steel Watch, Ref. No. BRV293-BL-ST/SST
BELL & ROSS
BR V2-92 Limited Edition Military Beige Automatic 41mm Stainless Steel and Canvas Watch, Ref. No. BRV292-BEI-ST/SF
LIMITED EDITION
BELL & ROSS
BR V2-92 Steel Heritage Automatic 41mm Stainless Steel and Rubber Watch, Ref. No. BRV292-HER-ST/SRB
BELL & ROSS
BR 05 Limited Edition Automatic Chronograph 42mm Stainless Steel and Rose Gold Watch, Ref. No. BR05C-LDA/SSG
SOLD OUT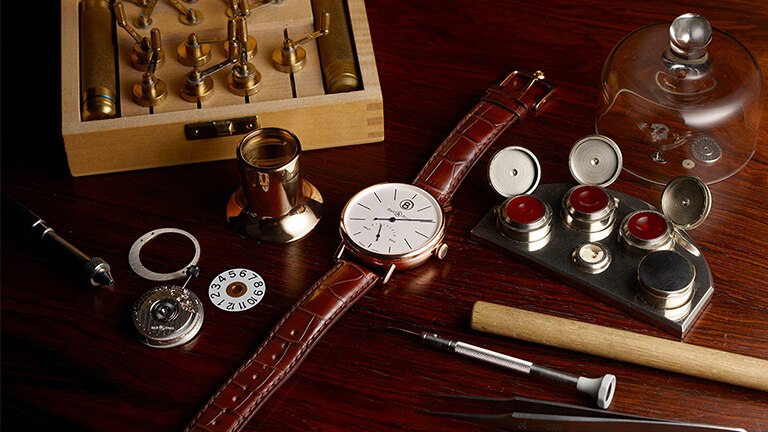 Jump To It
In 2002, Bell & Ross launched the world's first jumping hours digital display watch with a power reserve indicator. As well as being a masterstroke of classical simplicity, the Vintage 123 Heure Sautante was the result of a collaboration with Swiss-watch maestro Mr Vincent Calabrese, one of the few members of the esteemed Académie Horlogère des Créateurs Indépendants.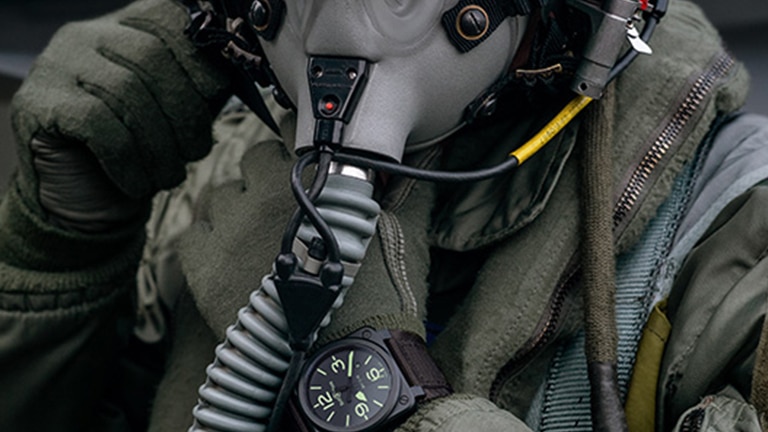 A Force To Reckon With
The Parisian Gendarmerie's elite Raid (Swat) unit and the French civilian bomb-disposal squad have Bell & Ross watches as essential kit. But the brand's most ringing endorsement comes from the French Air Force. At the request of the Chief of Staff, the Instrument BR 03 Type Aviation was chosen out of three tendered brands, both as an emblem and as meeting the tough requirements of their fighter pilots.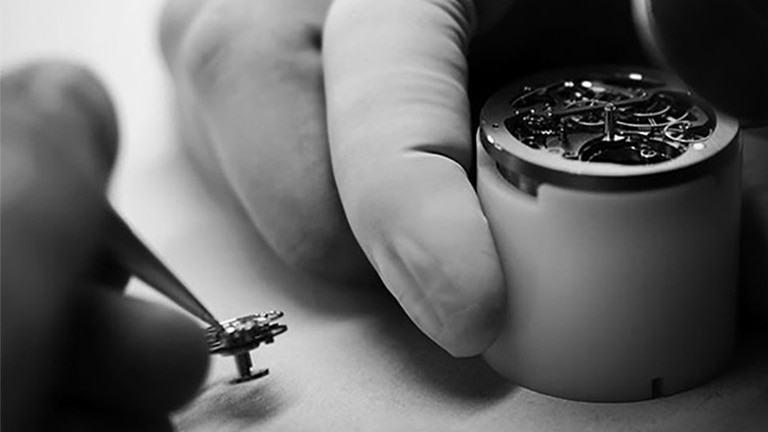 The Technical Expertise
Making high-end watches is notoriously difficult. That's why they cost so much. And it's even harder to convince customers when you're not a dyed-in-the-wool traditional brand. Both of which explain Messrs Belamich and Rosillo's initial hook-up with Frankfurt-based Sinn, a respected tool watch and cockpit instrument manufacturer that uses high-quality Swiss mechanical movements from ETA and Sellita. The early Space 1 chronograph– identical to Sinn's Sinn142 – was Bell & Ross' first big hit.