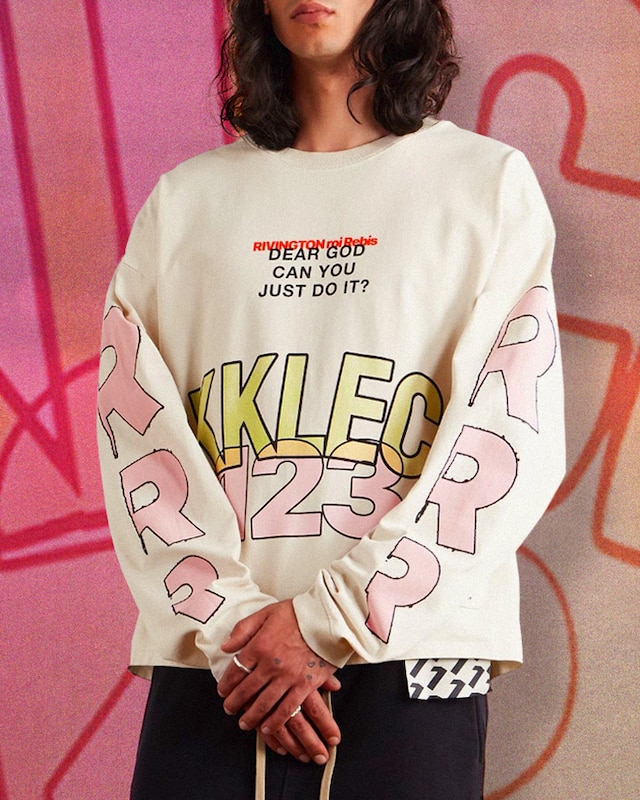 3 MINUTE READ
Five Reasons To Make LA Streetwear Brand RRR123 Your New Religion
Words by Mr Chris Elvidge
23 May 2023
Big news for streetwear fans: MR PORTER now stocks RRR123, the cult label from musician-turned-designer Mr Rivington Starchild. An insider favourite that has been gathering pace on the LA streetwear scene, RRR123 has blown up recently thanks to its sought-after collaborations with Fear of God, including pieces designed for Mr Dave Chappelle and merch for the recent Fear of God show at the Hollywood Bowl. Soon, we'll be sharing an exclusive interview with the designer, whose self-described "esoteric soliloquies" are sure to shed some light on the RRR123 brand and the gnostic, deeply symbolic graphic designs on its lineup of heavyweight tees, hoodies and sweatpants. For now, though, let's take a look at some of what you can expect – including a few pieces exclusive to MR PORTER.
01.
The Passion T-shirt
"Outside of the garden we shall all be clothed by RIVINGTON roi Rebis," reads the patch on this T-shirt, a tagline accompanied by a passage from "Revelation" 16:15. Christian imagery is deployed throughout the collection but nowhere more explicitly than in the Passion tee, seen here in an exclusive MR PORTER colourway. The hand on the crucifix overlaid with a boldface "123" makes for a potent image.
02.
The Cesus Saves sweatshirt
Religious iconography meets the DIY-punk aesthetic of band merch and the bold stylistic flourishes of street graffiti in this Cesus Saves graphic, which is exclusively available to MR PORTER as either a tee or a long-sleeved sweater. We're focusing on the latter here, which also comes with "RRR" printed down the sleeves.
03.
The Baptism hoodie
Another exclusive to MR PORTER, this heavyweight black Baptism hoodie features the image of John the Baptist anointing Jesus Christ with the words "death", "burial" and "resurrection" in the clouds above. The dropped shoulder seam lends this hoodie a drapey fit; amplify the effect by going a size up.
04.
The Gospel drawstring shorts
The influence of Christian gospel on RRR123 is writ large on these grey loopback-cotton shorts, namely the word "gospel". This is accompanied by the numbers 123, which the designer has described as representing the three elements of the alchemical process, the Rebis being the product or result of the union of opposites.
05.
The Ekklecia T-shirt
RRR123 is based in LA, but the designer was born and raised in Queens, NYC. In a 2019 interview, he revealed that he was named after Rivington Street in Manhattan and grew up on a fashion diet of Polo Ralph Lauren and Wu Wear. The influence of his upbringing can be seen clearly in the retro sportswear-inspired design of this Ekklecia graphic tee.