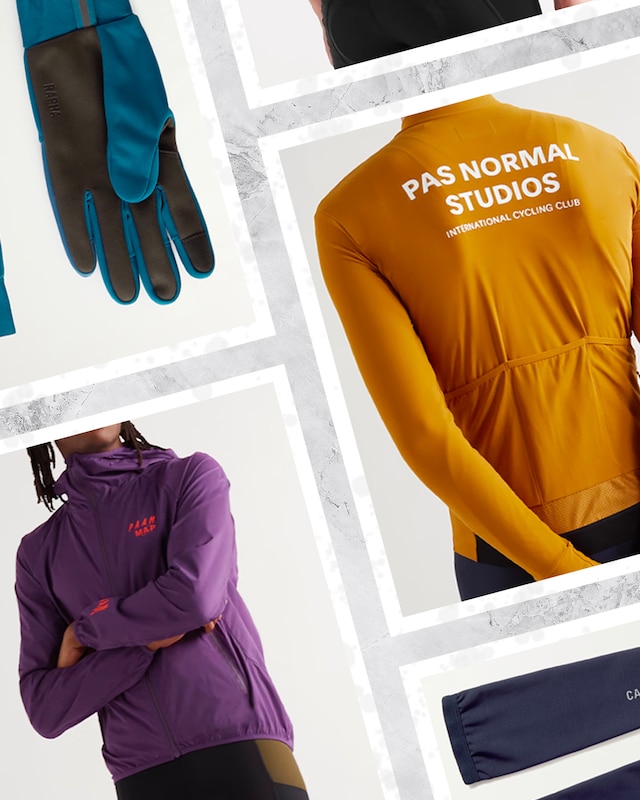 3 MINUTE READ
Five Cycling Essentials For Surviving On A Bike This Winter
24 October 2022
Cyclists, take note: the big wheel keeps on turning, and we're not talking about penny-farthings. Hemisphere depending, autumn is now upon us, meaning colder temperatures and darker mornings and evenings, often compounded with wind and/or rain. And while the old maxim about there being no bad weather, only bad clothing isn't entirely true – with winter lurking, it's only going to get worse – the right gear can help keep you on a bike for longer. Here, then, is the cycling kit to be seen with, and to get you seen, this season.
01.
The streetwear-inspired lightweight MAAP jacket
To describe Parisian streetwear label and emporium Perks And Mini (PAM) as "achingly hip" does little for your own street cred, no matter how accurate the statement is. Melbourne cycling brand MAAP opts for actions over words, teaming up with PAM for a capsule collection instead, wryly styled as "PAAM". This lightweight ripstop hooded jacket is arguably the hero of the collaboration. It can be easily stashed in a jersey pocket, with reflective details for low-light conditions.
02.
The Pas Normal Studios long-sleeved performance jersey
It feels almost cliché to connect Copenhagen to clean, considered clothing, and yet here we are. What's more, Scandinavians also know how to deal with the cold. Pas Normal Studios' Mechanism line is its race-ready performance range. This form-fitted jersey has been forged for comfortable riding from the first chill, as a standalone piece, into the heart of winter, when worn with other layers. And this shade of burnt orange also has a pleasingly autumnal feel.
03.
The fleece-backed Rapha bib tights
Like Goldilocks, cyclists appreciate porridge (slow-release energy) and being neither too hot, nor too cold. The perfect gear, then, helps regulate body heat, providing a barrier that keeps the elements out, but that is still breathable. This is the fine line that Rapha rides (and what a fine line its Pro Team collection is). These superhero-worthy winter bib tights feature mesh panels, fleece lining and chamois padding in all the right parts. We'll leave you to figure out where exactly they are.
04.
The breathable Café du Cycliste arm warmers
Designed with this particular moment in mind, arm (and, indeed, leg) warmers are the ideal accessories for morning rides when the temperature looks likely to rise as the day goes on. Offering the flexibility of transitioning from a long-sleeved jersey to a short-sleeved one, it's also an extra layer for your limbs – and with reflective trims. Café du Cycliste's collection brings the brand's experience of the climbs and descents of le Midi to its technical gear. Expect performance kit with a certain je ne sais quoi.
05.
The Rapha winter touchscreen gloves
We feel it in our fingers, we feel it in our toes – the cold is all around us, and so the feeling grows. Or, rather, goes. Which is why a serious gloves are essential for winter rides. Rapha's Pro-Team touchscreen microsuede pair will keep digits defrosted, even when checking Google Maps or updating Strava stats. In fact, on Rapha's gloves you can depend.