Recommended
Recommended
Price Low to High
Price High to Low
New In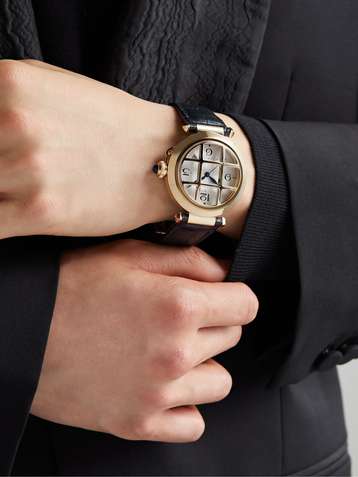 CARTIER
Pasha de Cartier Grille Automatic 41mm 18-Karat Gold and Alligator Watch, Ref. No. WGPA0019
WATCHES AND WONDERS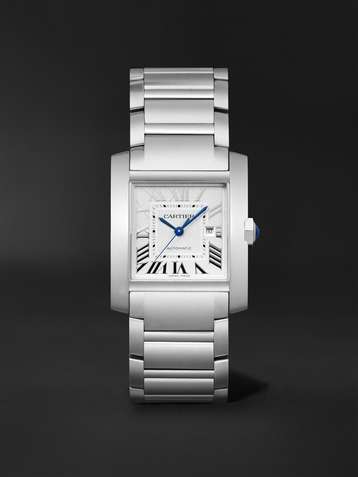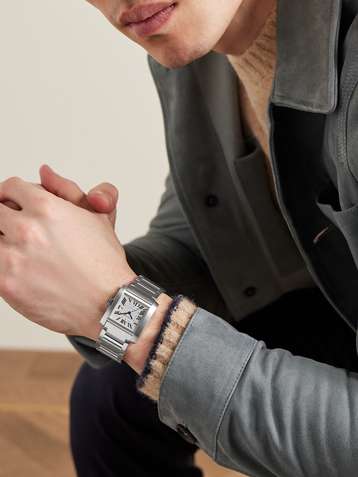 CARTIER
Tank Française Automatic 36.7mm Stainless Steel Watch, Ref. No. WSTA0067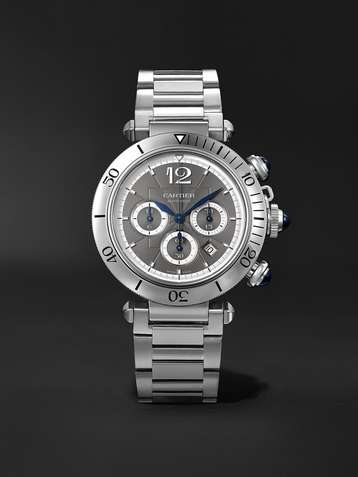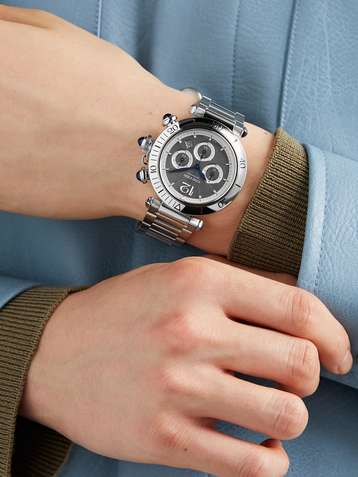 CARTIER
Pasha de Cartier Automatic Chronograph 41mm Stainless Steel Watch, Ref. No. WSPA0027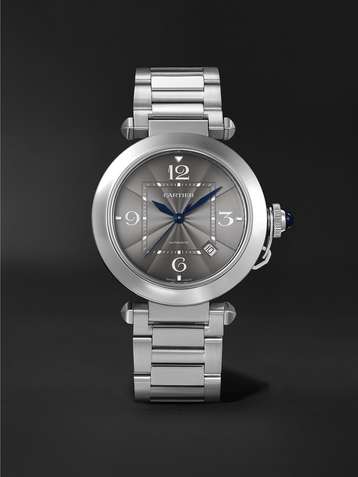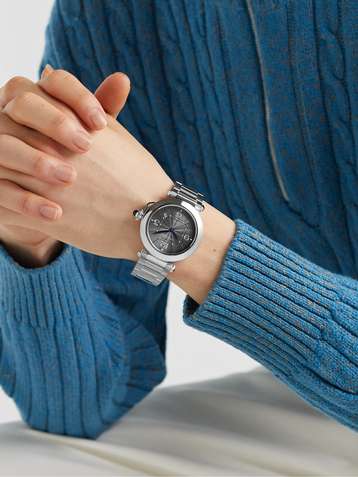 CARTIER
Pasha de Cartier Automatic 41mm Stainless Steel and Alligator Watch, Ref. No. WSPA0026
CARTIER
Santos de Cartier Automatic-Wound 35.1mm Interchangeable Stainless Steel and Alligator Watch
CARTIER
Tank Française 32mm Stainless Steel Watch, Ref. No. WSTA0074
CARTIER
Ballon Bleu de Cartier Automatic 42mm 18-Karat Pink Gold and Alligator Watch, Ref. No. CRWGBB0017
CARTIER
Santos de Cartier Automatic Chronograph 43.3mm Interchangeable 18-Karat Gold, Stainless Steel and Rubber Watch, Ref. No. W2SA0008
CARTIER
Pasha de Cartier Automatic Chronograph 41mm 18-Karat Gold and Alligator Watch, Ref. No. WGPA0017
CARTIER
Santos de Cartier Automatic 39.8mm Stainless Steel and PVD-Coated Watch, Ref. No. CRWSSA0047
CARTIER
Pasha de Cartier Automatic 41mm Stainless Steel and Alligator Watch, Ref. No. WSPA0030
CARTIER
Ballon Bleu de Cartier Automatic 40mm Stainless Steel Watch, Ref. No. WSBB0061
CARTIER
Pasha de Cartier Automatic 41mm Stainless Steel and 18-Karat Gold Watch, Ref. No. W2PA0009
CARTIER
Ballon Bleu de Cartier Automatic 42mm Stainless Steel and 18-Karat Gold Watch, Ref. No. CRW2BB0022
CARTIER
Ballon Bleu de Cartier Automatic 40mm 18-Karat Pink Gold and Alligator Watch, Ref. No. WGBB0050
CARTIER
Ballon Bleu de Cartier Automatic 40mm 18-Karat Pink Gold Watch, Ref. No. WGBB0039
CARTIER
Ballon Bleu de Cartier Automatic 42mm 18-Karat Pink Gold and Alligator Watch, Ref. No. WGBB0036
CARTIER
Pasha de Cartier Automatic Chronograph 41mm Stainless Steel Watch, Ref. No. WSPA0018
CARTIER
Santos de Cartier Skeleton Hand-Wound 39.8mm Interchangeable Stainless Steel and Alligator Watch
CARTIER
Santos Automatic 39.8mm 18-Karat Pink Gold Interchangeable Alligator Watch, Ref. No. WGSA0007
CARTIER
Ballon Bleu de Cartier Automatic 40mm 18-Karat Pink Gold and Alligator Watch, Ref. No. WGBB0035
CARTIER
Ballon Bleu de Cartier Automatic 40mm Stainless Steel Watch, Ref. No. WSBB0040
CARTIER
Tank Louis Cartier 34mm 18-Karat Gold and Alligator Watch, Ref. No. CRW1529756
CARTIER
Santos Automatic 39.8mm 18-Karat Rose Gold Interchangeable Alligator and Leather Watch, Ref. No. WGSA0011
CARTIER
Tank Must 33.7mm Stainless Steel Watch, Ref. No. WSTA0052
CARTIER
Pasha de Cartier Automatic 41mm 18-Karat Gold and Alligator Watch, Ref. No. WGPA0007
CARTIER
Santos-Dumont Hand-Wound 33.9mm Extra Large 18-Karat Rose Gold, Steel and Alligator Watch, Ref. No. W2SA0017
CARTIER
Drive de Cartier Automatic 40mm Steel and Alligator Watch, Ref. No. CRWSNM0005
CARTIER
Santos-Dumont Hand-Wound 33.9mm Extra Large 18-Karat Rose Gold and Alligator Watch, Ref. No. WGSA0032
CARTIER
Ballon Bleu de Cartier Automatic 42mm Stainless Steel Watch, Ref. No. CRW69012Z4
CARTIER
Ballon Bleu de Cartier Automatic 40mm Stainless Steel and Alligator Watch, Ref. No. WSBB0039
CARTIER
Drive de Cartier Hand-Wound 18-Karat Pink Gold and Alligator Watch, Ref. No. CRWGNM0006
CARTIER
Santos-Dumont 31.4mm 18-Karat Rose Gold and Alligator Watch, Ref. No. WGSA0021
CARTIER
Santos de Cartier Automatic 39.8mm Interchangeable Stainless Steel and Leather Watch, Ref. No. WSSA0013
CARTIER
Ballon Bleu de Cartier Automatic 42mm Steel and Alligator Watch, Ref. No. CRWSBB0025
CARTIER
Ballon Bleu Automatic 42mm Stainless Steel and Alligator Watch, Ref. No. CRW69016Z4
CARTIER
Santos-Dumont Hand-Wound 33.9mm Extra Large Steel and Alligator Watch, Ref. No. WSSA0032
CARTIER
Tank Américaine Automatic 45mm Steel and Alligator Watch, Ref. No. CRWSTA0018
CARTIER
Santos-Dumont 31.4mm Large Steel and Alligator Watch, Ref. No. WSSA0022
CARTIER
Tank Must 33.7mm Stainless Steel and Leather Watch, Ref. No. WSTA0041
SOLD OUT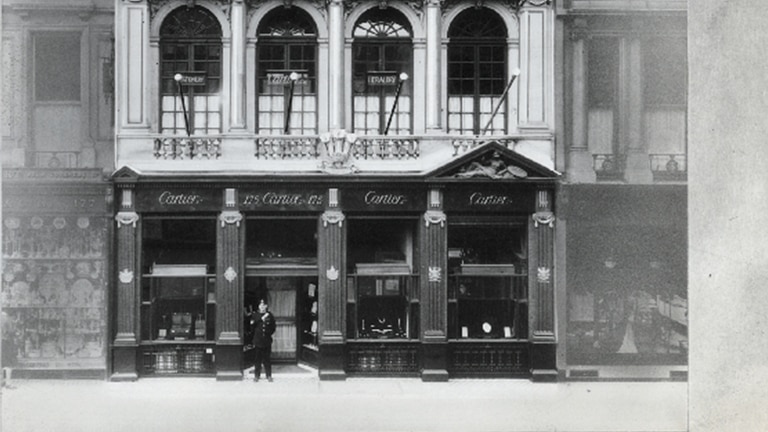 The History
The jeweller to kings and the king of jewellers, Cartier's story began in 1847 when Mr Louis-François Cartier rented a modest jewellery store near the oyster market in Paris. He was just 28, but within three decades his business was an empire, built by his sons Pierre, Louis and Jacques, in London, Paris and New York. Their Swiss-made watches are both timeless jewellery and Art Deco icons, with a penchant for novel case shapes and inspirations – from tortoises and baths to armoured vehicles.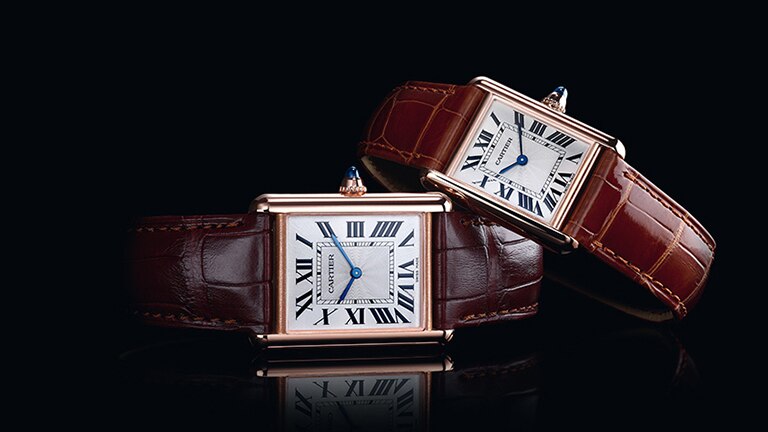 Tracks Of My Years
In 1917, just 90 miles from the carnage of the Western Front, the hushed Parisian ateliers of Cartier were working on a wristwatch that would become the benchmark not only for 'shaped' watches, but dress watches as a whole. Louis Cartier had seen pictures of the first British Army tanks rumbling across the scorched earth of Flanders, and the footprint of their caterpillar tracks inspired the Tank's principal feature, its lateral "brancards", or "stretcher handles".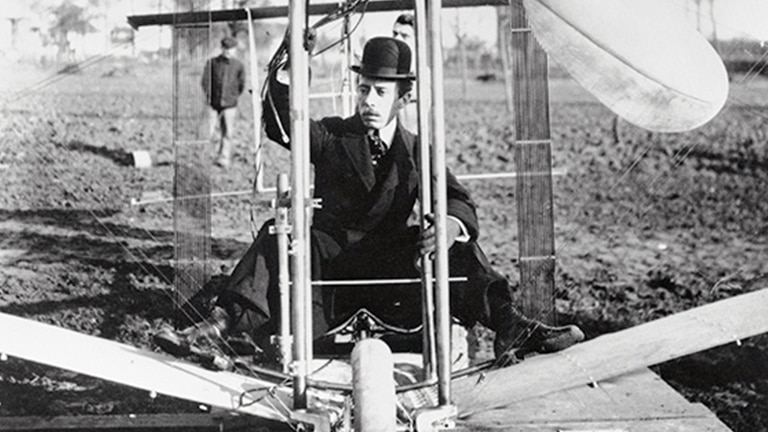 Those Magnificent Men
Mr Santos-Dumont was a flamboyant and pioneering Brazilian aviator who rendered turn-of-the-century Parisians flabbergasted by buzzing around the Eiffel Tower in his powered flying machines. He might have come a cropper if it wasn't for his pal Mr Louis Cartier, who responded to his request for a hands-free timepiece with the now-legendary Santos de Cartier watch – arguably the first-ever pilot's wristwatch. Fast-forward to 1978, and the rebooted Santos was being teed up as the luxury watch of the 1980s – a status cemented by the yellow-gold number gleaming from the wrist of a certain Gordon Gekko in 1987's Wall Street.