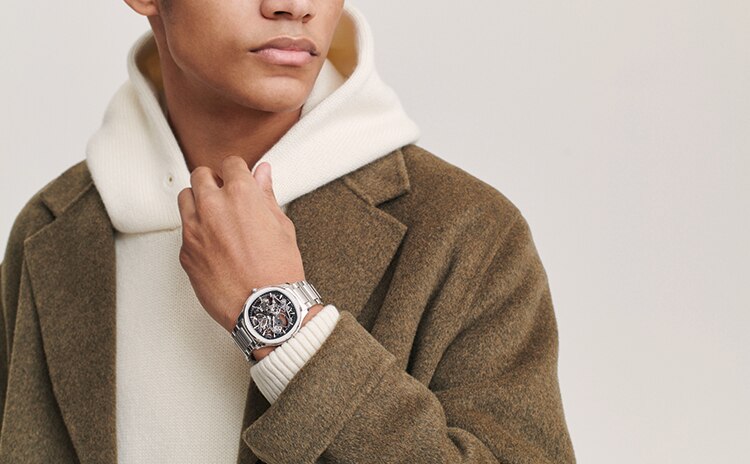 MR PORTER x Watchfinder & Co. Part-Exchange Programme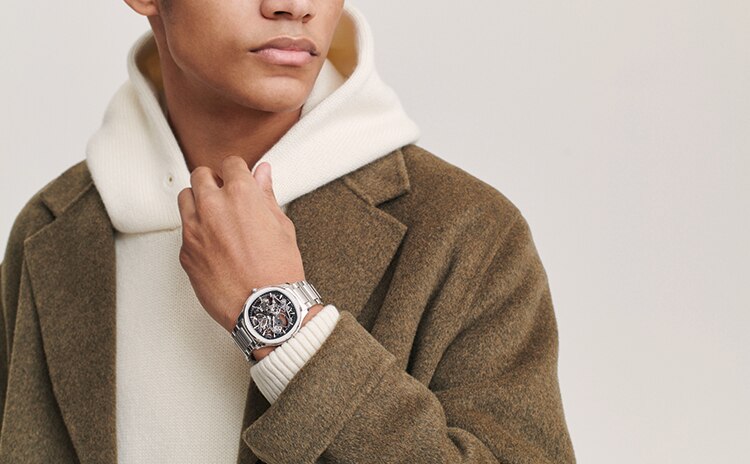 MR PORTER x Watchfinder & Co. Part-Exchange Programme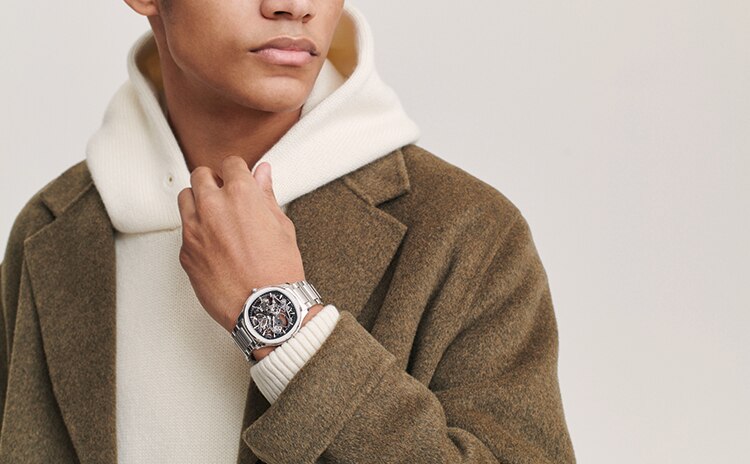 MR PORTER x Watchfinder & Co. Part-Exchange Programme
Need help?
We're available 24/7 and speak over 14 languages
Call us on 0800 044 5705
We are very excited to announce that MR PORTER is introducing a brand-new part exchange service within the US and UK, in partnership with pre-owned watch specialist Watchfinder & Co. 
Why?
Participating in the growing pre-owned watch market is an exciting step taken by MR PORTER to offer an additional service to our US and UK customers in the watch purchase journey.  Providing a convenient and secure path to update your timepiece collection or wardrobe, utilising and selling an unwanted watch to do so.
How does the new Part-Exchange Programme function?
The new part-exchange programme means our customers can now trade in one or more of their current timepieces, receiving the value in MR PORTER store credit, allowing them the choice to purchase anything on MR PORTER – whether that be a brand-new watch, lifestyle products for their home, or refreshing their wardrobe. 
You can liaise directly with our watch experts who will facilitate an instant estimate on your existing watch via Watchfinder & Co. 
If you are happy with the estimated price range given, a fully insured courier will collect the watch with any accompanying box and papers at a time that suits you - and deliver your watch to Watchfinder's  manufacturer-certified service centre for a full appraisal and a final valuation
If you are happy with the final valuation, MR PORTER will facilitate the next steps – and your credit will be available for your next purchase
A very quick and simple process
What can you purchase with your store credit?
The part-exchange service applies to all products on MR PORTER, allowing you the freedom to choose from over 550 of the worlds most stylish brands – whether that be a brand-new watch or refresh their wardrobe and home. 
Is this available globally?
The service will only be available to MR PORTER customers in the UK and US for now. 
Is the trade in watch limited to specific brands?
From Rolex, Patek Philippe, F.P. Journe to Audemars Piguet, IWC Shaffhausen and Omega; this new part-exchange service applies to an extremely wide variety of pre-owned luxury watches. If you are unsure whether a watch you own is suitable for the trade in service, you can contact us for further information.  
What happens with the watches that are traded in?
Once Watchfinder has purchased the watch from the customer, their expert watchmakers will invest time returning it back to its best possible performance and appearance and then add it to their collection of over 4,000 luxury watches on sale via their website and boutiques, alongside a 24-month Watchfinder warranty. 
About Watchfinder & Co.
Founded in 2002 Watchfinder & Co. is the premier resource from which to buy, sell and part-exchange pre-owned luxury watches. From bestsellers, through to vintage and limited-edition pieces, Watchfinder offers over 4,000 watches from more than 70 luxury brands, all available online and via their network of boutiques and showrooms.
With quality and dependability at the heart of their business; all watches are meticulously inspected, authenticated, and prepared by a team of expert watchmakers in Europe's largest independent service centre - accredited by 19 of the world's leading watch manufacturers. Every watch also comes with a 24-month Watchfinder warranty. For 18 years, Watchfinder has delivered knowledge and service that meets the very highest standards, and their customer testimonials stand testament to that with over 20,000 5-star reviews on Trustpilot alone.