THE KNOWLEDGE
A Guide To The Chronograph

THE KNOWLEDGE
A Guide To The Chronograph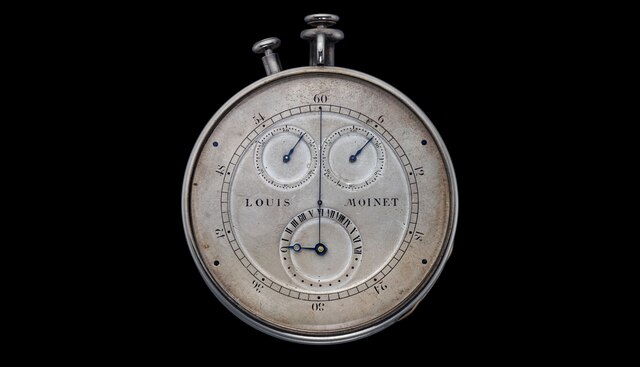 Pinpoint Accuracy – Or Not
It speaks volumes about the mystery surrounding the fabled chronograph that until 2012, we weren't even sure who had made the first one. What we thought was the first ever stopwatch wasn't even a watch at all. It didn't even have hands or dials. Mr Nicolas Rieussec's crude contraption of 1821, a true "time writer" as the Greek-derived "chronograph" contraction translates, dolloped a spot of ink onto a rotating disc of paper and dropped another when the timed event came to an end (a horse race, usually). 
As it transpired at a Christie's watch auction in 2012, there was another, older chronograph in existence, a rather boxy, tired-looking pocket watch made in 1816 by Mr Louis Moinet, above (although, because you look at the elapsed time as indicated by the hands, rather than it being drawn, it is a chronoscope in the strictest Greek sense; just like every other so-called chronograph, in fact).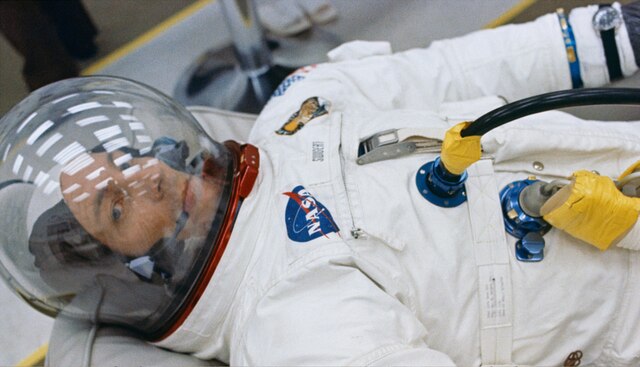 The History Of The Chronograph
Mr Moinet's device, which was way ahead of its time, still didn't tell the time. He built it to make astronomical observations with his telescope. Fast-forward to the present day, and with the chronograph function now established as the most popular horological feature, appearing on everything from entry-level fashion watches up to collectors' Patek Philippes, what's it used for now? 
Soft-boiling an egg goes the usual yoke, sorry, joke – something Captain Jack Swigert may indeed have done at home in the 1970s, using his Omega Speedmaster. The other thing he used it for was timing a 14-second fuel burn on board the stricken Apollo 13 lunar module, above. Those precise 14 seconds meant the craft was perfectly realigned for re-entry into the Earth's atmosphere.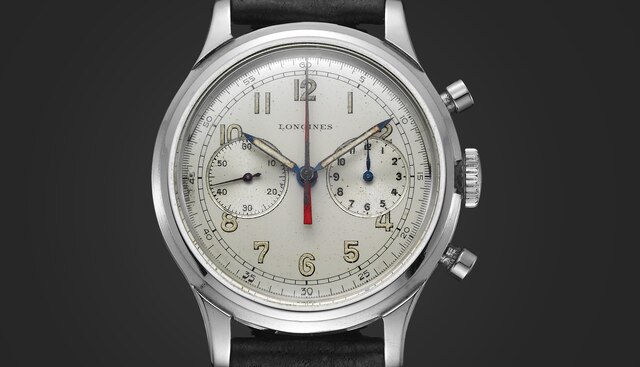 The critical role of Captain Swigert's "Speedie" on that fateful mission in 1970 earned its Swiss maker the coveted Silver Snoopy Award from Nasa. It is one of many tales of derring-do and adventurism in which the chronograph has played a part, and ultimately what makes this ubiquitous horological complication (and it really is complicated to make) such a cult among watch enthusiasts. 
The first flyback chronograph, which instantly resets to zero and starts again, was pioneered by Longines in the 1930s for pilots of the era's increasingly fast aircraft to time successive flight paths without fiddling around the cockpit. Breitling's slide-rule Navitimer was developed with the Aircraft Owners and Pilots Association. The monochromatic array of three circular subdials was born of the Rolex Daytona and Heuer Autavia's respective origins in the pit lane, where they timed the fearless drivers of the 1960s. 
It goes beyond the stories, too. Unlike a moonphase, a perpetual calendar or even that prize complication, the whirling-dervish tourbillon, a chronograph isn't just for admiring through the sapphire caseback. It is a way of viscerally connecting with your watch. Like Dom Cobb and his spinning-top totem in Inception, only you really know how your chronograph's start/stop and reset push buttons feel, from the pushers' slight resistance and sudden give to how the seconds hand flies off the blocks and what sort of muted click you hear. The wristwatch is already a man's most personal possession. Adding a chronograph to the mix only seals the connection further.
The innovation never stops for horology's favourite complication, as these recent breakthroughs prove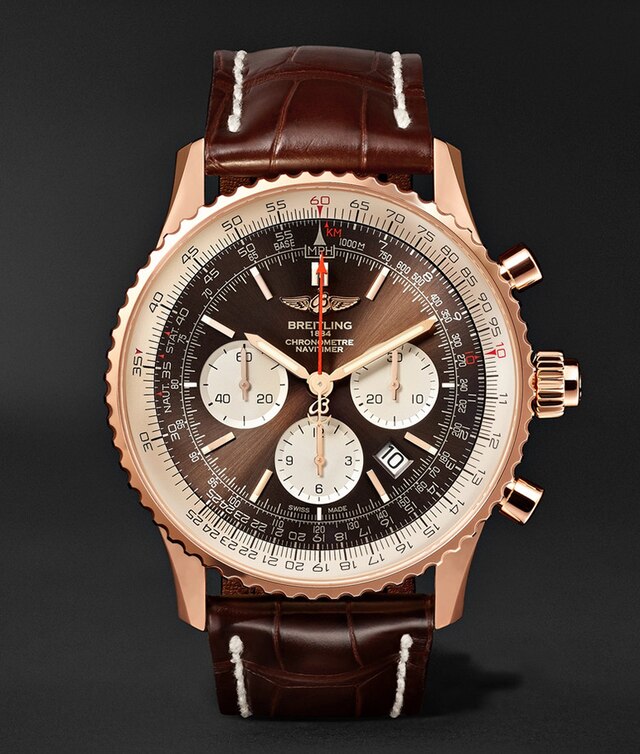 Breitling
A curiously affordable chronograph was recently unveiled by Switzerland's chronograph maker non pareil, a rattrapante, split-seconds complication for just under £10,000, or about half the price of the nearest alternative (Officine Panerai, since you ask). The idea of a rattrapante is that the chronograph has two superimposed seconds hands, the lower of which you can stop, or split, to time a lap, while the other continues ticking. With another click, the split hand can then catch up (rattraper in French) and continue as one. To achieve this, Breitling devised a double-patented module to sit on its in-house B01 chronograph movement.
Shop the style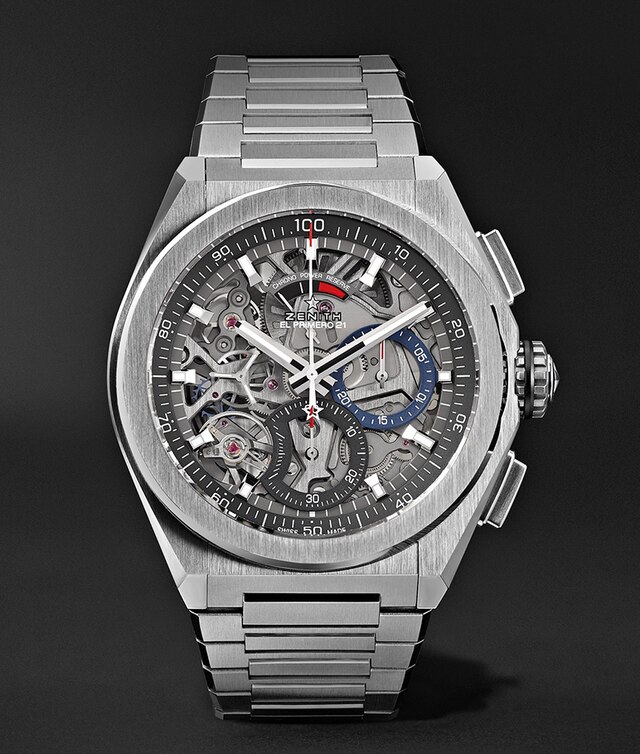 Zenith
Zenith's revolutionary new Defy El Primero 21 features an entirely separate chronograph module powered by its own winding barrel and regulated by its own ticking escapement. Along with Seiko, Zenith broke ground in 1969 with not only a world-first self-winding chronograph, but one that ticked at 5Hz rather than the usual 4Hz, allowing a timing precision of a 10th of a second. The Defy 21's chronograph mechanism now ticks 10 times faster than that. The central seconds hand flies around the dial every second in a mesmerising spectacle of urgency and sportiness. To ensure the delicate, ticking balance spring survives such breakneck performance, Zenith has gone the extra mile in manufacturing it from an amorphous matrix of carbon nanotubes.
Shop the style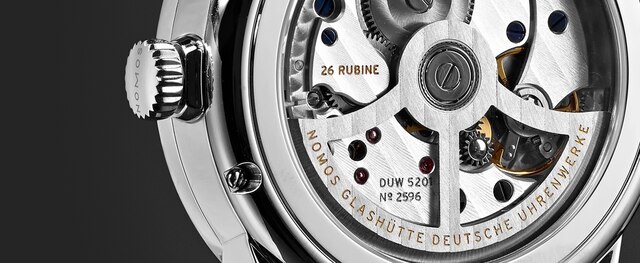 YOU'VE GOT THE KNOWLEDGE…
Now put it to use. We're constantly adding new styles, limited editions and exclusives to our luxury watch selection. Find the one that's right for you.
Shop all luxury watches