THE KNOWLEDGE
A Glossary Of Watch Terms

THE KNOWLEDGE
A Glossary Of Watch Terms
The A To Z Of Luxury Watches
Know your rattrapante from your flyback and your chronometer from your chronograph with MR PORTER's jargon-busting guide to the bewildering world of haute horlogerie.
Accuracy
The measure of how well a watch keeps time. The Swiss pride themselves on this, but a mechanical watch is likely to be less accurate than a quartz watch. To carry the prestigious chronometer certification for accuracy, a mechanical watch need only be accurate to -4/+6 seconds a day.
Analogue
A watch that uses hands to tell the time. Much the best way.
Anti-Magnetic
A watch that uses technologies to offset the effects of magnetism on its moving metal parts. We're surrounded by magnets (phones, laptops, airbags and so on). When a watch movement becomes magnetized, it becomes "sticky", meaning the moving parts can't operate freely. This ruins a watch's accuracy and, in worst cases, can stop it altogether. Watches can be demagnetised, but anti-magnetic technology is becoming increasingly popular – examples being silicon components or inner "Faraday cages" of soft iron.
Arabic Numerals
Script numerals 1 to 12, or 5 to 60, used on a watch dial to indicate hours, minutes and possibly seconds, as opposed to Roman numerals or baton hour markers or indexes.
Automatic
A mechanical watch with a movement charged by a spinning rotor that's propelled by the motion of your arm.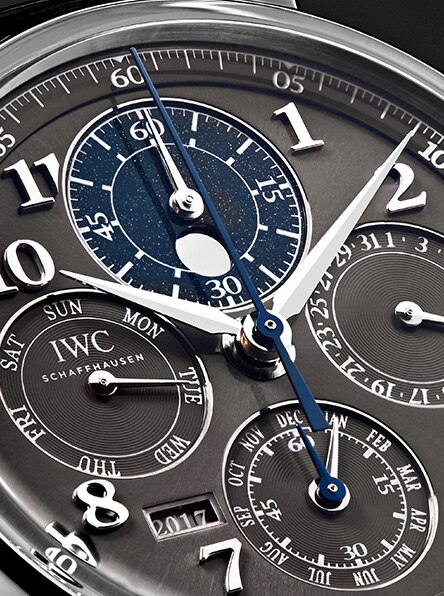 Annual Calendar
A watch that shows the day, date and month (and possibly phases of the moon) and only needs adjusting for month length once a year at the end of February.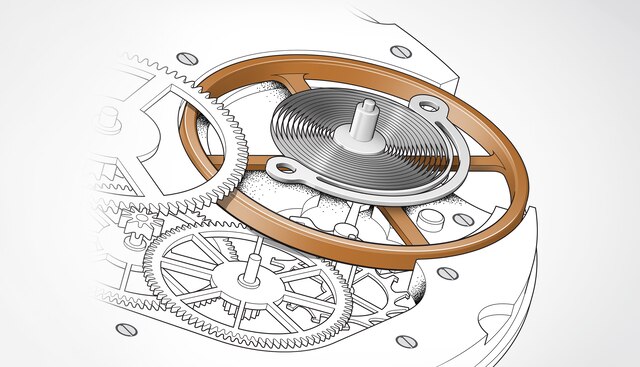 Balance Spring
The very fine, delicately coiled wire that ticksat the heart of a mechanical watch movement. It sits on a balance wheel (the oscillating wheel you can see when you look through the back of a watch with a see-through case back) and is almost invisible to the naked eye when the wheel is in motion.
Balance Wheel
A wheel at the heart of a mechanical watch movement that vibrates, splitting time into equal parts. Two vibrations, a to and a fro, if you like, equal one oscillation. In the course of an hour, most mechanical movements vibrate about 28,800 times, equating to a 4 Hz oscillation rate. See also Regulating organ.
Bar
A measure of pressure that indicates water resistance. Roughly speaking, one bar equals 10m, or about 30ft, so that a watch with 30 bar written on the dial is water resistant to 300m or 1,000ft.
Barrel
A mechanical battery. A barrel houses a mainspring, a metal coil that stores a mechanical watch's power. This is released over anything from 38 hours to several weeks, depending on the sophistication of the watch.
Bi-compax
A chronograph watch with two subdials, usually symmetrical and usually showing the watch's running seconds and the chronograph's 30-minute scale.
Bi-compax
A chronograph watch with two subdials, usually symmetrical and usually showing the watch's running seconds and the chronograph's 30-minute scale.
Big Date
What it says on the tin. Larger dates are heavier and require more power to operate, which is why some brands make a big deal of big.
Blued Steel
Essentially an aesthetic tool to give watch parts, hands or screws, for example, a shimmering blue finish. Historically, watchmakers used blued steel to show their prowess.
Bridge
A piece of a mechanical movement that acts as a platform for smaller watch parts, or holds them in place.
Brushed
A technique, usually done by hand, that gives a watch case a matte finish. Offset against a polished finish, it creates a three-dimensional effect.
Bubble-Shaped
An old-fashioned bubbled or domed crystal shape that's been repopularised by the resurgence of vintage watch designs.
Buckle
The metal pin system that secures a strap to the wrist.
Calibre
The words calibre and movement are often used interchangeably. Both refer to the assortment of small parts that combine to create a mechanism that can turn power stored in a barrel into an accurate timing device. Purely, calibre refers to a particular movement designation.
Case Back
The back of a watch. Usually but not always made of the same material as the case and sometimes with a see-through plate so the movement is visible. This is sometimes known as an exhibition case back.
Central Seconds
A central hand, usually thinner than the hour and minute hands, that shows the running seconds of a watch. Chronographs usually have central seconds hands to show the time recorded by the chronograph function. See also Small seconds.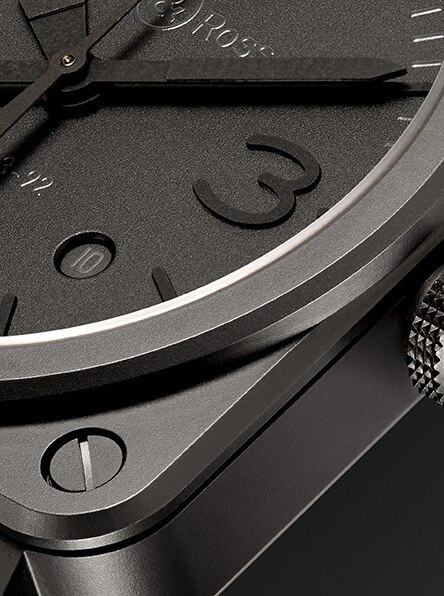 Ceramic
A lightweight, fade-resistant, highly scratch-resistant material often used in diver's watch bezels. Some brands also make monocoque cases from ceramic.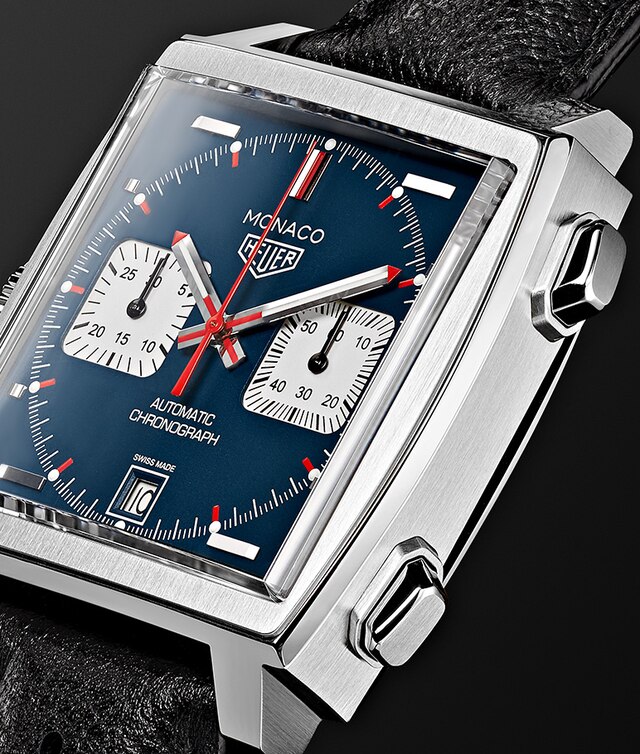 Chronograph
A timing function separate from the main time-telling function of a watch, used to record individual events and usually operated by two pushers either side of the crown. A stopwatch, basically. See also Flyback and Split seconds.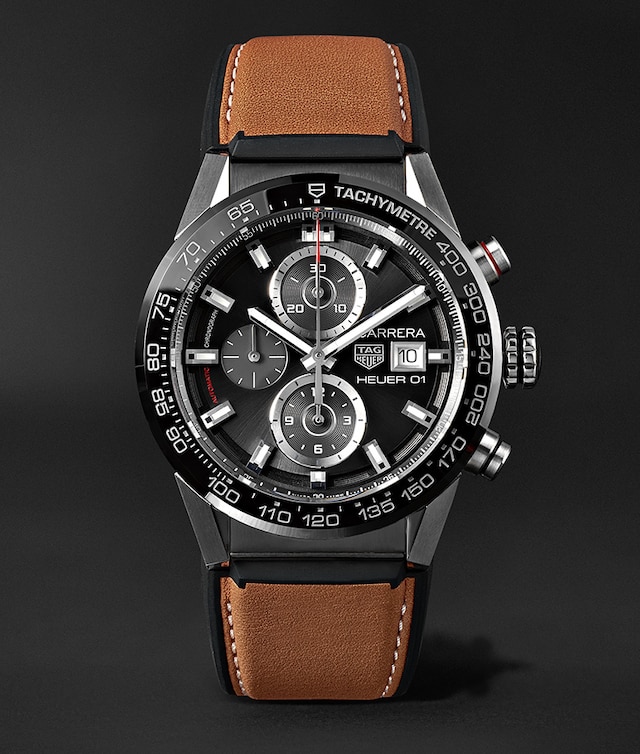 Chronometer
A watch movement that has been independently certified for accuracy by Contrôle Officiel Suisse des Chronomètres (COSC). During a 15-day testing period, COSC tests for accuracy under a variety of conditions. An officially certified chronometer is accurate to -4/+6 seconds a day.
Clasp
A folding mechanism that acts to secure a watch to the wrist.
Complete (Or Full) Calendar
A term used by some high-end brands to describe a watch that shows the day, date and month, but that needs adjusting in months with fewer than 31 days.
Complication
A fancy word for a watch function beyond telling the time – chronograph, GMT, perpetual calendar and so on.
COSC
Abbreviation for Contrôle Officiel Suisse des Chronomètres. See Chronometer.
Côtes De Genève
A traditional Genevan striped finish often applied to watch parts, such as bridges and dials. Sometimes known as Geneva stripes.
Crown
The device on the side of the case used for adjusting and often winding a watch.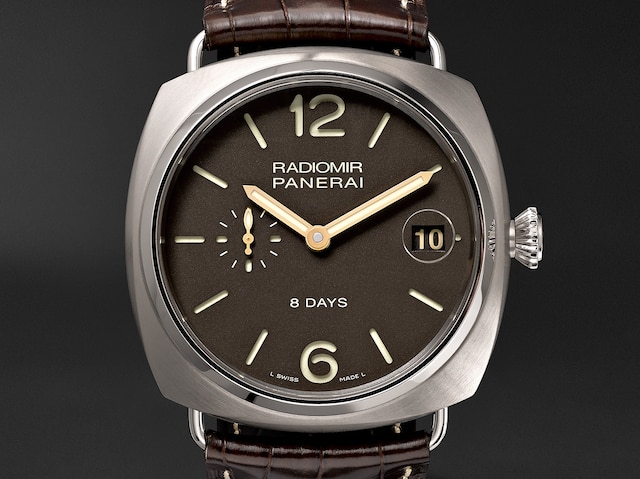 Cushion-Shaped
A sort of squashed square case shape first popularised by Patek Philippe in the 1920s and now used by a number of brands (notably, Officine Panerai, when creating classy-looking pieces with a softer feel.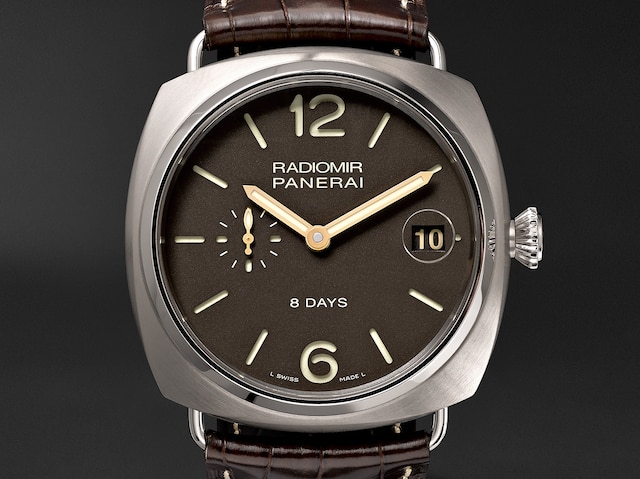 Cushion-Shaped
A sort of squashed square case shape first popularised by Patek Philippe in the 1920s and now used by a number of brands (notably, Officine Panerai, when creating classy-looking pieces with a softer feel.
Date Corrector
A small, usually secreted button on a watch case that, when pressed, adjusts the date. Mostly found on high-end watches with sophisticated calendar mechanisms.
Day/Date
A watch that indicates both the day and date.
Dial
The face of a watch. Always say "dial" . Always.
Diver's uni-directional rotating bezel
Diver's watches have to perform a number of functions impeccably – it could be a matter of life or death. One of those is to accurately and reliably relay dive time. This is done by aligning the bezel's zero marker with a watch's minute hand and then reading off elapsed dive time. In a proper diver's watch, the bezel will rotate only in an anti-clockwise direction, so that the time indicated can never be accidentally shortened, thus suggesting to a diver they have more oxygen remaining than they do.
Diver's Watch
ISO 6425 lays out a full definition of a diver's watch, the headlines being water resistance of at least 100m, a uni-directional rotating bezel, running seconds and legibility at 25cm in the dark.
DLC
Diamond-like carbon – a carbon coating, often black, applied to watch cases. DLC is generally superior to PVD. See also PVD.
ETA
One of the big third-party movement manufacturers. Owned by Swatch Group, parent company of Omega, Longines and Tissot, it also produces movements for dozens of other Swiss brands.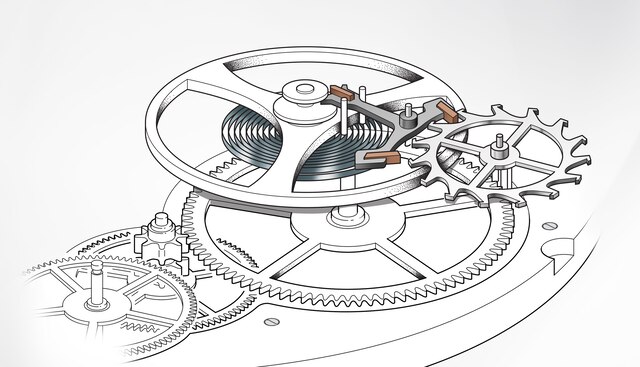 Escapement
One of the critical parts of a mechanical watch movement. It controls the wheels, suspending their motion at regular intervals so that power is delivered evenly through the system.
Finishing Or Finissage
Top watch companies employ dozens of skilled craftspeople whose job it is to finish watch parts – cases, bridges, hands, etc. These finishes are often highly detailed. Finishing is one of the qualities that separates a luxury watch from the rest.
Frequency
Refers to the number of oscillations performed by the balance wheel. The higher the number, the more precisely a movement can measure time. For example, a 28,800vph (vibrations per hour) chronograph will break time into quarters of a second. A 36,000vph chronograph can break it into tenths.
Flyback
A chronograph with a seconds hand that can be reset to zero and restarted with a single push of a button.
GMT (Or Dual Time)
A watch that displays a second time zone, usually indicated by an additional central hour hand.
Grande Complication
A watch with multiple high-end complications.
Guilloché
An old-fashioned dial-engraving technique, usually used to create uniform patterns.
Hand-Wound
A mechanical movement wound by hand, rather than by a free-spinning rotor (see Automatic). This is done by rotating the crown.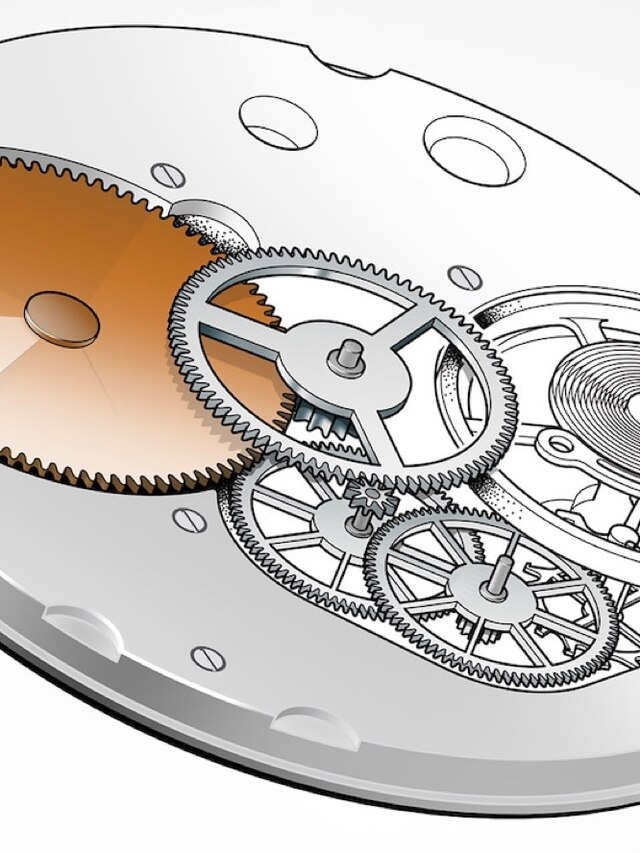 Gears
A series of toothed wheels and pinions in a watch movement.
Helium Escape Valve
Found on some advanced diver's watches and only useful to saturation divers who spend time in pressurised, helium-rich environments. Helium particles are smaller than air and can penetrate a watch case during compression dives. During decompression, these particles expand and could damage a watch unless released through a helium escape valve. Some of these valves are automatic; some have to be operated manually.
Incabloc
A trademarked shock absorption system built into some watches' balance wheels.
Index Or Hour Marker
Used instead of Arabic or Roman numerals to indicate hours. Can be painted, applied (by hand), filled with or made from luminescent material, or made from exotic materials, such as diamonds.
In-House
A term used to describe a watch or movement developed, produced and assembled by the same company whose name appears on the dial. Very few dial names can claim to create every part of a watch movement. Historically, the industry was a series of specialist producers who supplied établisseurs, or assemblers, who then put a name on the dial for retail. The verticalisation of watch manufacturing is a relatively modern phenomenon that has come to carry great kudos.
Jewel
Traditionally rubies, now usually synthetic stones with very smooth surfaces, jewels are used to hold moving parts in place with minimal friction.
Jumping Hours
A system of showing the hour via a single digit seen through an aperture on the dial. Under the dial is a rotating disc that jumps forwards on the hour.
Knurling
A finishing technique that creates a grippy surface defined by a pattern of straight, angled or crossed lines.
Lubrication
Mechanical watches are made of hundreds of small parts, many of which move, sometimes thousands of times an hour. To keep them moving freely and regularly, they are lubricated with a special watchmaker's lubricant. Over time, this wears out and has to be replaced during a service. See Servicing.
Lugs (Or Horns)
The case extensions that hold a strap or bracelet in place.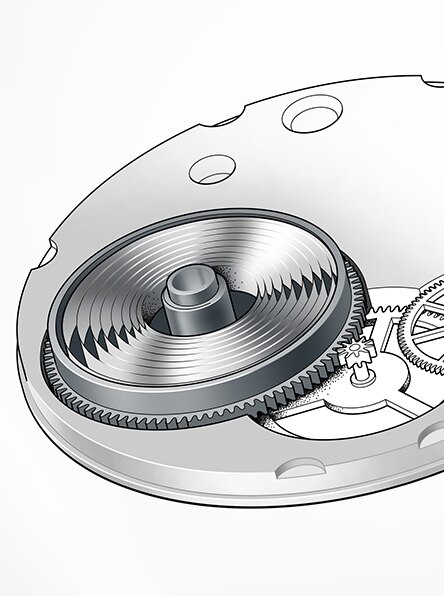 Mainspring
A tightly wound metal coil that stores the power in a mechanical watch. See also Barrel.
Manufacture
The posh word the Swiss use for factory, and for describing a watch produced in-house. See also In-house.
Mechanical Watch
A watch with a traditional movement powered not by electronics, but by a mainspring that requires regular winding and governed by a series of gears and regulating organs.
Milanese Bracelet
A metal bracelet made from thousands of small links, woven together to create a fine, supple mesh.
Mineral Glass
A softer, less scratch-resistant glass than sapphire crystal, sometimes used in case backs.
Minute Repeater
A watch with a high-end complication that can chime the time on demand.
Monopusher
A chronograph that's started, stopped and reset using a single pusher, sometimes secreted into the crown.
Moonphase
A watch with a display showing the phases of the moon during its 29.5-day cycle.
Movement
The name given to the assortment of parts that combine to create a unit that can keep track of time, loosely defined as the winding and hand-setting mechanism, the mainspring, the gears, the escapement and the regulating organ.
Perpetual Calendar Or QP
One of the most highly valued complications in watchmaking, a perpetual calendar can keep track of the date, even in leap years. Often, they have detailed dials that show the day, date, month, year, moon phase and leap year.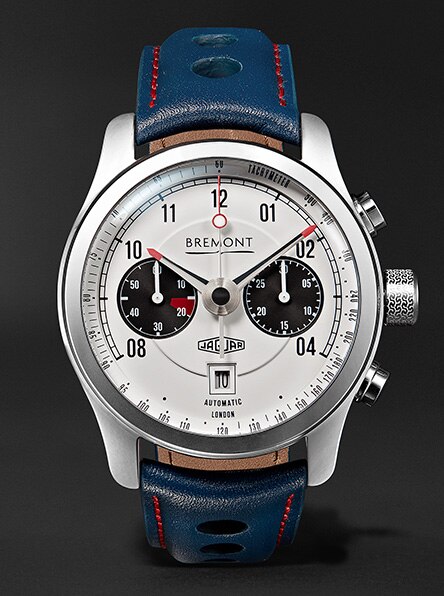 Panda (And Reverse Panda)
Term given to chronographs that have white dials with black or grey subdials. Where the dial is black and the subdials white, the term reverse panda is used.
Polished
Polishing is a skill and takes years to learn. Many watches have a combination of brushed and polished surfaces to show that they have been finished by hand. Note that fashion watches will usually be polished, a process that can be undertaken by a machine.
Power Reserve
Used to describe the number of hours of power stored in the mainspring. A power reserve of about 40 hours is perfectly acceptable, although in recent years brands have been creating watches with bigger power reserves as a quality signifier. Power reserves of 60 to 80 hours are no longer unusual.
Pulsometer
A scale running around the dial of a watch used to measure heart rate.
Pusher
A button on the side of a case that activates a function, most typically a chronograph.
PVD
Physical vapour deposition – a coating applied to watches to give them a coloured finish, often black. See also DLC.
Quartz
Quartz movements use a battery-powered system of electronics to keep track of time. Typically, quartz movements are cheaper and more accurate than their mechanical equivalents, but also considered less romantic. In the 1960s and 1970s, when the technology was new, quartz, although initially expensive, became hugely popular. The mechanical-watch industry suffered in what became known as the Quartz Crisis. In Switzerland, about 1,000 watch businesses went bust and two-thirds of the workforce were laid off. The current preoccupation with mechanical watches began in the late 1980s and has gathered pace ever since.
Regulateur
A watch with non-coaxial hands, in other words, with a central minute hand and an hour hand in a separate subdial. The term derives from highly accurate clocks developed by observatories to be used as parent clocks that other timepieces could be set by.
Regulating Organ
The balance wheel and balance spring are known as regulating organs. They are a key part of a mechanical watch movement and count time.
Retrograde
A lateral or vertical scale used to display functions such as the time, date or power reserve. A hand or indicator moves across a retrograde scale and then jumps back to its starting point as appropriate.
Roman Numerals
The old-school way of showing the hours using the Roman system of numerals, and an alternative to Arabic numerals and indexes/hour markers. See also Arabic numerals and Index or hour marker.
Sapphire Glass
A hard, scratch-resistant glass used by most luxury watch brands to cover the dial.
Screw-In Crown Or Pushers
Some diver's watches have the added security of a screw-in crown and screw-in chronograph pushers. Before either can be operated, they have to be unscrewed (not underwater). Before a dive, they must be securely screwed down to ensure the watch performs underwater as described.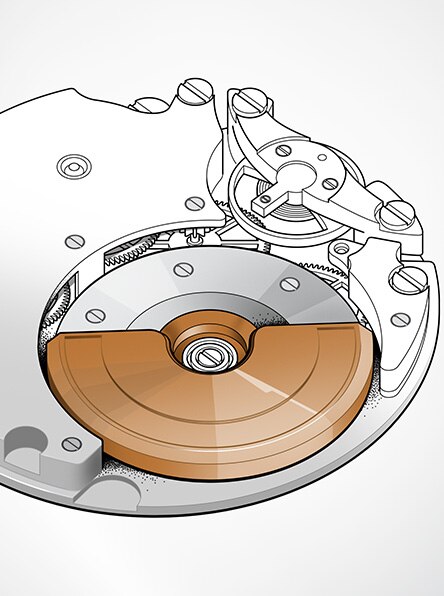 Rotor (Or Oscillating Weight)
The semi-circular weight that spins, or rotates, in an automatic movement to charge the mainspring.
Sellita
One of the big third-party movement manufacturers and ETA's great rival. Like ETA, most of its exports are reliable, tried-and-tested movements. They just don't carry the kudos of an in-house calibre. See also ETA.
Servicing
Manufacturers recommend you get a new mechanical watch serviced every three to five years, and a vintage watch every two years. A service involves stripping a watch down and cleaning and relubricating it so that it maintains its accuracy. Servicing a luxury watch can cost hundreds of pounds, rising as the watch becomes more complicated. Worth factoring in when making a purchase.
Silicon
Over the past 10 to 15 years, watch brands have introduced silicon into watchmaking, particularly into the balance. Silicon is watchmaking wonderstuff because it's resistant to perilous things such as shock, magnetism and changes in temperature and because it requires very little maintenance.
Skeletonisation
A skeletonised watch has no dial. Instead, the watchmaker hollows out and decorates the movement so it can be seen in all its glory, creating an intricate, arcane look that many watch collectors go crazy for.
Small Seconds
A subdial that shows the running seconds.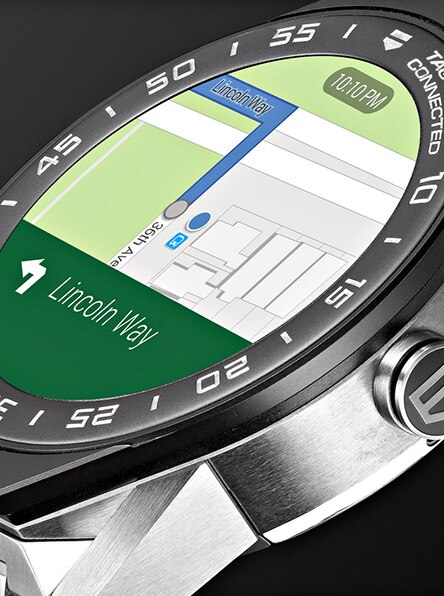 Smartwatch
An electronic watch that wirelessly connects to a network so that it can relay information. At the moment, smartwatches are largely oversized, even in the luxury space, where only a handful of brands have embraced the technology.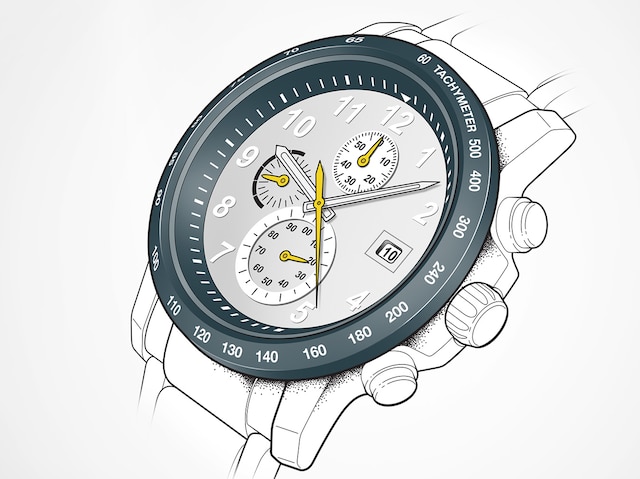 Tachymeter
A scale running around the outside of a dial, or sometimes on a bezel, used to calculate speed.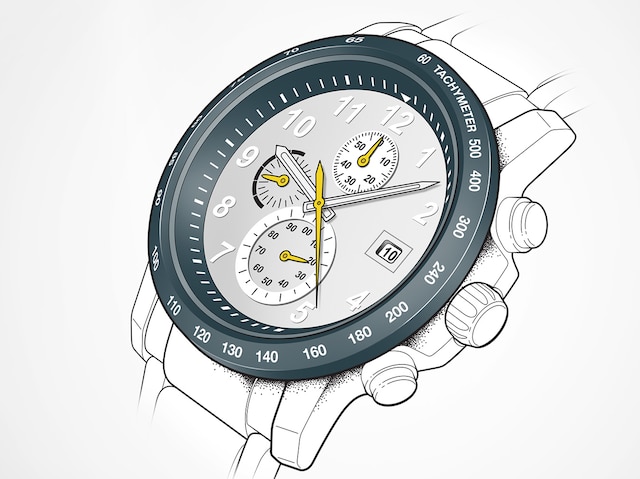 Tachymeter
A scale running around the outside of a dial, or sometimes on a bezel, used to calculate speed.
Sonnerie
A rare, high-end complication that strikes the time on the hour, half and quarter hours.
Split Seconds (Or Double) Chronograph
A chronograph that can time two events that start at the same time but finish independently of one another – two athletes in a race, for example.
Subdial
A smaller dial within a dial that relays secondary information. Sometimes known as counters when displaying chronograph hours and minutes.
Super-LumiNova
The brand name of a high-quality luminescent material used by most brands when creating watches that can be read in low-light conditions.
Telemeter
A scale running around the outside of a dial used to calculate the distance between an event you see first and hear second. Originally devised to help officers determine the position of enemy fire, now more useful for storm chasing.
Three-Hander
Term used to describe a watch that only tells the time.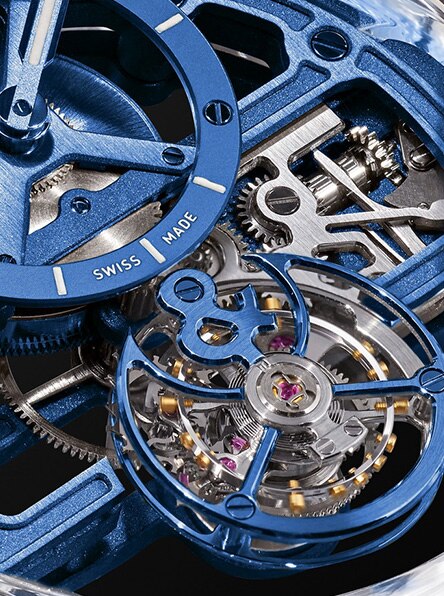 Tourbillon
A device perfected by Mr Abraham-Louis Breguet in 1801 that offsets the impact of gravity on a watch movement's accuracy. Devised back when watches were kept in one position in a pocket, the tourbillon's effectiveness is minimal in a wristwatch, but it's retained its status as a symbol of quality watchmaking. Technically, a tourbillon is not a complication because it performs no additional function to telling the time, but it's widely considered as such.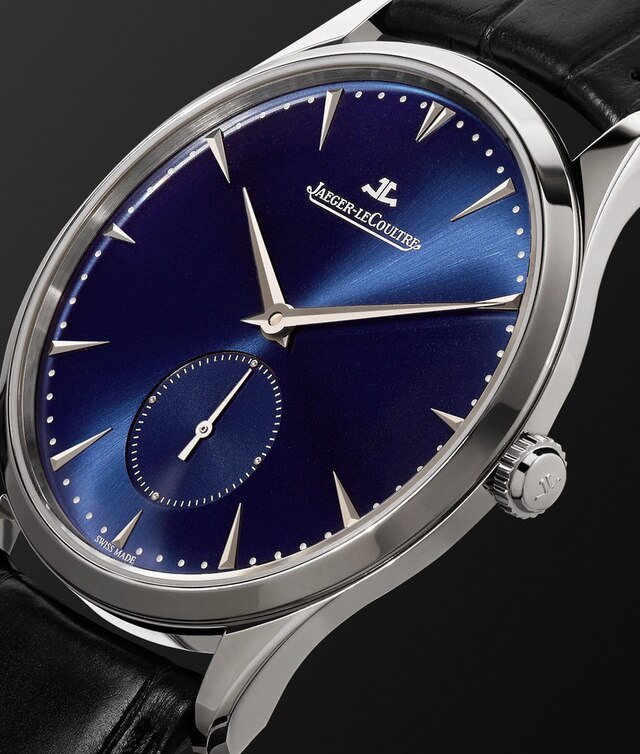 Ultra-Thin
Slimness in watchmaking is often considered a complication because the thinner a watch becomes, the more complex it is to make. As a rule of thumb, a watch with a case measuring anything under about 8mm can be considered ultra-thin, although in recent years some brands have squeezed cases down to just a few millimetres.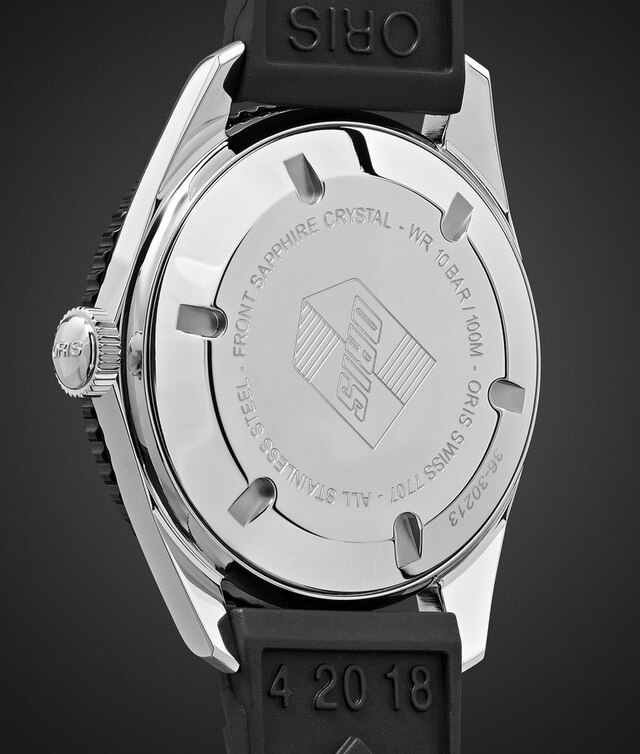 Water Resistance
Typically measured in bar, atmospheres, metres or feet, water resistance in watches is a murky subject. Generally speaking, a watch that is water resistant to 30m is rainproof, to 50m showerproof, to 100m good for snorkelling and to 200m more suitable for diving.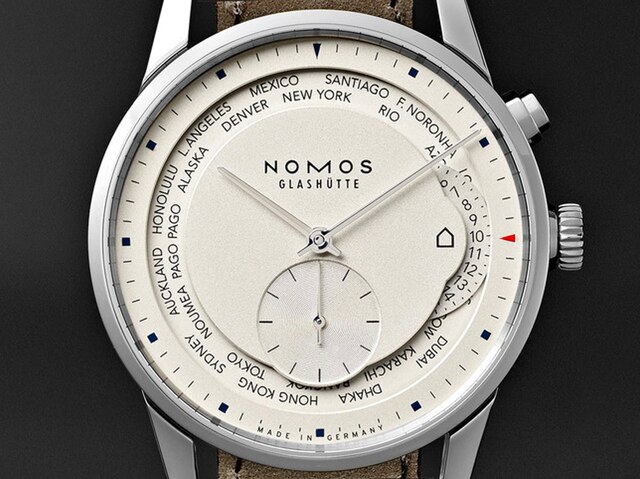 Worldtimer
A watch that can show local time and the time in any of the world's time zones simultaneously.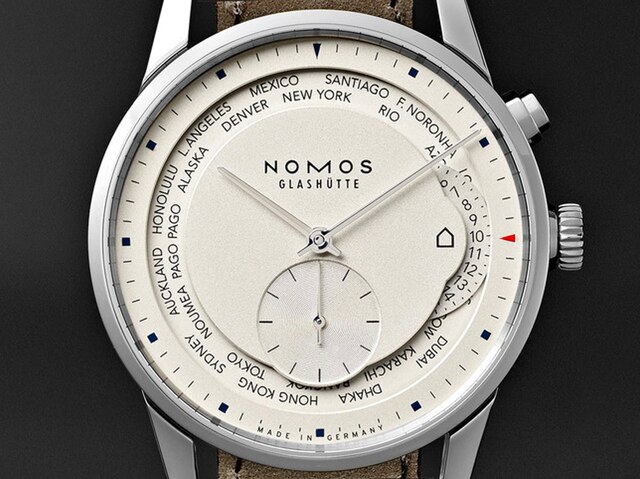 Worldtimer
A watch that can show local time and the time in any of the world's time zones simultaneously.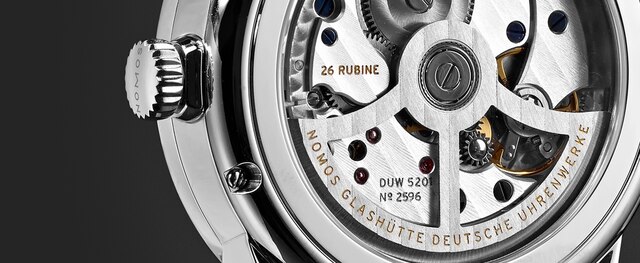 YOU'VE GOT THE KNOWLEDGE…
Now put it to use. We're constantly adding new styles, limited editions and exclusives to our luxury watch selection. Find the one that's right for you.
Shop all luxury watches