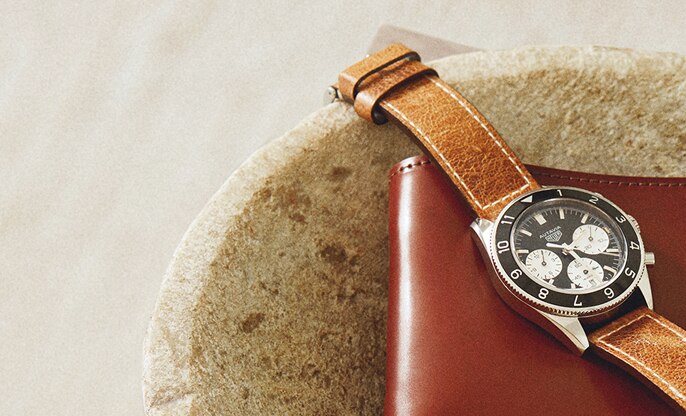 THE KNOWLEDGE
A Guide To Watch Straps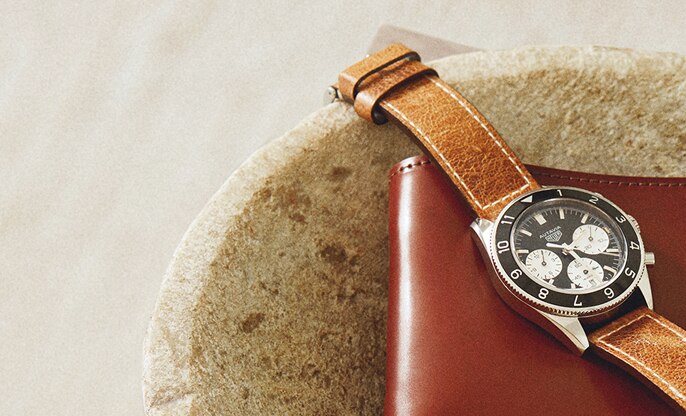 THE KNOWLEDGE
A Guide To Watch Straps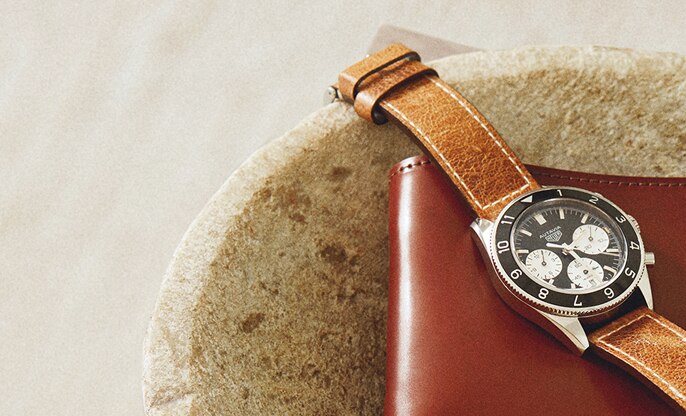 THE KNOWLEDGE
A Guide To Watch Straps
From the butch bracelets of Breitling's Chronomats to the contrast-stitch padded calfskin of a Bremont pilot's chronometer, your watch's strap is as much a bold and masculine statement as the precision mechanical instrument attached to it. Even the flimsy "Nato" brings to mind James Bond checking his fabric-strapped Rolex Submariner at the beginning of Goldfinger seconds before his furtively planted bomb explodes.
So, that all said, it comes as quite a surprise to learn that men were late adopters of wrist-born timepieces – it was women who first embraced the convenience and status-signalling advantages of a strapped watch.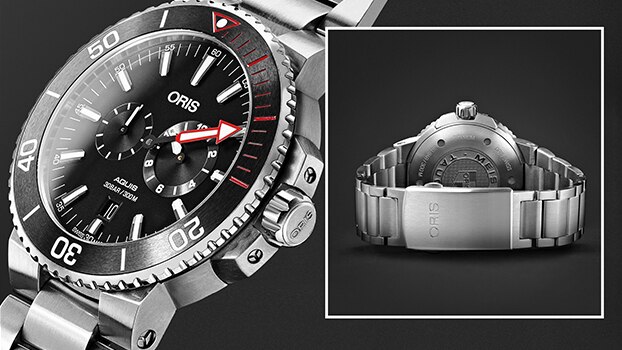 In steel, the manly choice; in gold, what you might call glamorous – or, if you like, a bit bling. Either way, a robust means of affixing watch to wrist, and another canvas for design-meets-engineering expression. Rolex's seminal Oyster bracelet started out as a costly add-on in the 1930s, manufactured by Geneva's renowned Gay Frères, who were later responsible for realising the revolutionary 'integrated' designs of Gérald Genta in the 1970s (the bracelet of the original version of Audemars Piguet's Royal Oak, for example). If you do go the linked-bracelet route, do ensure that it's properly fitted to your wrist – a dangly bracelet weakens the links. And to clean those tricksy nooks and crannies after a sweaty summer's day out? An old toothbrush and some warm, diluted washing-up liquid, followed by a rinse with cold water.
Whether it's alligator, crocodile, calfskin or even Nomos Glashütte's favoured Horween Cordovan (horse, believe it or not), the leather strap is arguably the most versatile material choice, available in colours that span the rainbow and straddling both casual and smart. As leather was the original fastening of choice for pilots, it isn't surprising that this strap gives the design a retro aviator look. It'll wear faster than a bracelet but age gracefully in the process, much like a leather jacket. The best leather and bracelet straps are European, with Italy, Germany and Switzerland making the best.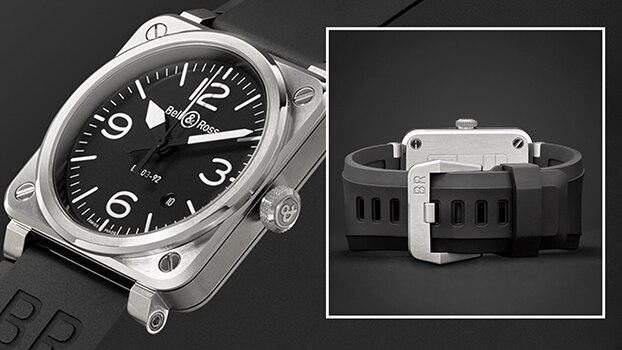 Essential for diving watches – and, by virtue of diving watches' booming popularity, increasingly popular as a smart-casual choice, even when attached to considerably high-end bits of kit. The best rubber diving straps come with a rippled "accordion" detail that stretches out over a wetsuit. Rubber only really got a look-in in the 1960s when Austrian firm ISOfrane developed the first durable rubber strap especially for divers. Rubber was previously prone to cracking at low temperatures and blistering in the heat, but ISOfrane's isoprene compound, derived from petroleum, retained all the lightness and waterproof qualities along with comfort and durability. They even infused it with vanilla extract to disguise any smell of stale sweat – something that Hublot was to borrow in the 1980s.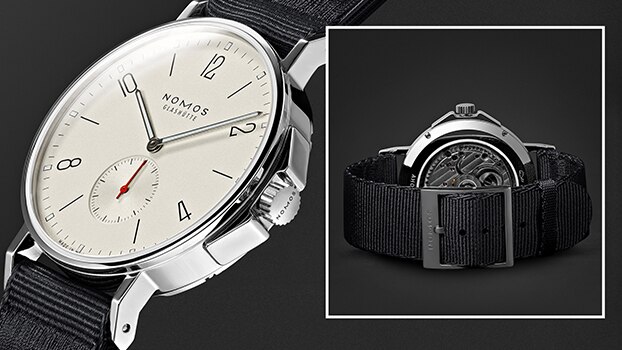 The easiest and most affordable way to switch up your wrist style is with a "Nato" strap, usually made of brightly coloured nylon, but occasionally fabric (Tudor, for example, has its straps intricately crafted by a French weaver using the same Jacquard looms used by Lanvin and Prada for its ribbons and labels). Still enjoying huge popularity for its mix-and-match customisability, the Nato's origins are anything but fashionable or fun: the British Ministry of Defence. Its Defence Standard document 66-15 of 1973 first commissioned and defined "Strap, Wrist Watch". Coming in at 20mm wide to fit the British Army's standard-issue CWC watches and only available in admiralty grey, its folded loop design meant that things held fast on your wrist even if one of the pin bars spanning the lugs pinged off. The exact specification can easily be found online by searching for the current Def-Stan 66-47 – the "Nato" nickname coming from the fact it quotes a number of Nato stock numbers for variants. The web is awash with fast and funky Nato's these days, but for 24-carat authenticity we refer you to Page & Cooper, who stock Phoenix straps – today's MoD supplier and, yes, available in admiralty grey. 
---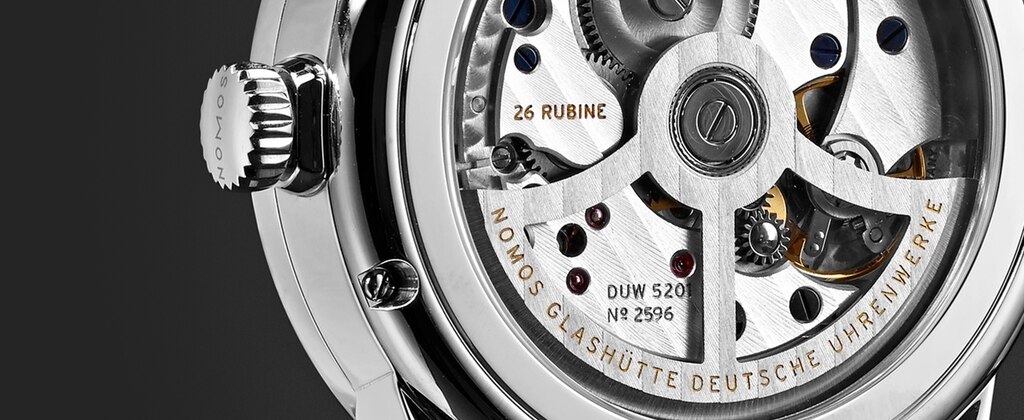 YOU'VE GOT THE KNOWLEDGE…
Now put it to use. We're constantly adding new styles, limited editions and exclusives to our luxury watch selection. Find the one that's right for you.