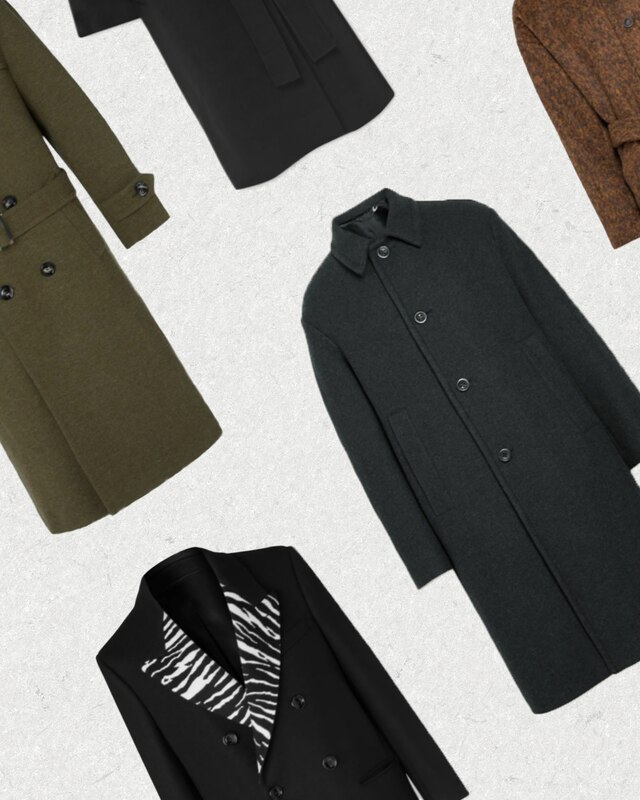 3 MINUTE READ
Why Autumn Is The Season To Recruit A Greatcoat
Words by Mr Shane C Kurup
14 October 2021
As is the cyclical nature of fashion, the greatcoat is trooping back into the style crosshairs for AW21. Designers from CELINE HOMME to Ermenegildo Zegna sent models marching down the runways of Paris, Milan and London in long-line, voluminous creations that pay homage to the greatcoat, an ankle-skimming cover-up with military heritage. As you'd expect of the brightest minds in fashion, they've been given a distinctly modern flavour. In short, it's a great time to consider recruiting your own greatcoat. Here's our roll call of this season's finest.
01.
The monochrome coat
If anyone is going to bring rock 'n' roll swagger to the greatcoat, it's CELINE HOMME's Mr Hedi Slimane. While it follows the double-breasted, peak-lapel profile of its predecessor, Slimane amps up the design with the addition of monochrome tiger stripes. This salient pattern gives what could be just another black coat a touch of the outré that Withnail himself would surely appreciate.
02.
The cosy belted coat
The Bavarian capital, famed for Oktoberfest and Weißwürste, might not be the first place you'd think to go looking for a modern overcoat, but it gets pretty nippy there in winter, so Munich-based label A Kind Of Guise knows exactly what's needed to combat the cold. In a fetching, mottled wool cloth, this heavyweight cover-up is a louche take on the traditional design and features a slouchy (read comfortable) drop shoulder and belt to let you style it with a little more shape.
03.
The oversized coat
An alumnus of the progressive Antwerp Six, Mr Dries Van Noten has always championed a more capacious silhouette and this style is an easy way to tap into the brand's sense of the avant-garde. Its multifaceted anthracite hue is sure to make it your all-round winter wingman, while its structured drape frames both smart and casual pieces equally well.
04.
The timeless investment coat
The Row knows that comfort and considered design can indeed come in one well-fashioned package. A case in point being this handsome belted coat, which has the cold-weather advantage of a plush wool-cashmere fabrication. Think of it as the most decadent house robe you can wear in public without judgement, whether you're just nipping out for a pint of milk or showing your face at a formal.
05.
The military trench coat
If, for you, the main appeal of the greatcoat is its forces ancestry, you'll find it hard to better this heavyweight number, another solid effort from the uber-cool CELINE HOMME. It's cut in a roomy, but not sloppy, shape that dials up the proportions of its forerunner, while the khaki-green shade is an authentic salute to the original. And let's face it, is there anything more charismatic than a handsome war hero?