Recommended
Recommended
Price Low to High
Price High to Low
New In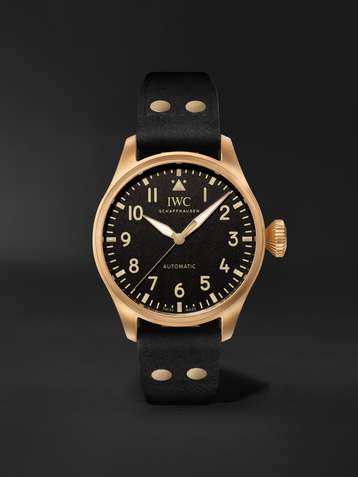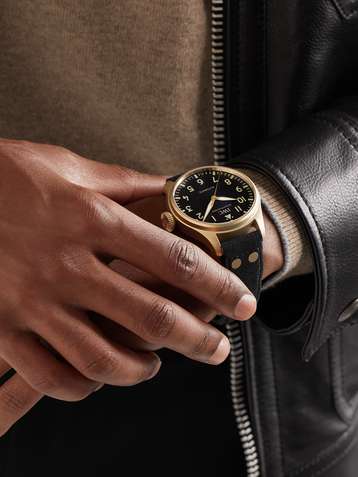 IWC SCHAFFHAUSEN
Big Pilot's 43 MR PORTER Edition 1 Limited-Edition Automatic 43mm Bronze and Alcantara Watch, Ref. No. IW329703
LIMITED EDITION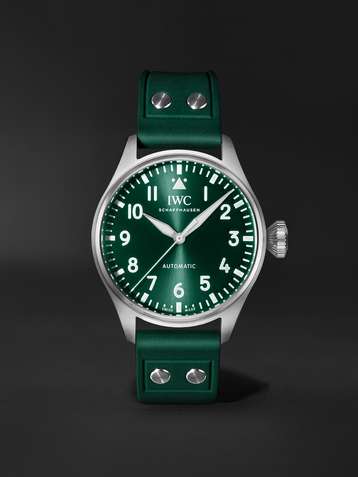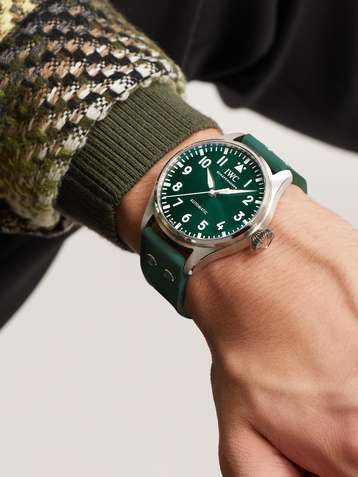 IWC SCHAFFHAUSEN
Big Pilot's Automatic 43mm Stainless Steel and Rubber Watch, Ref. No. IW329306
WATCHES AND WONDERS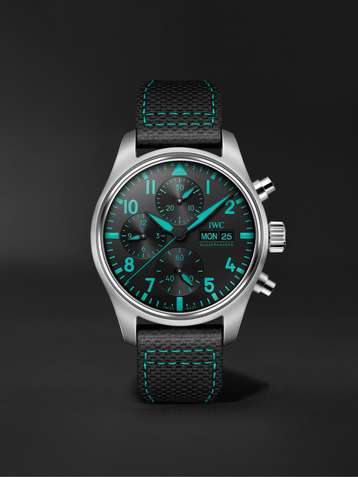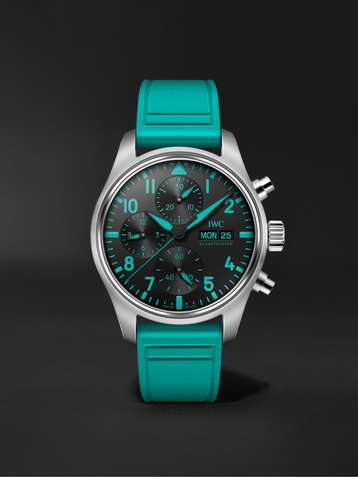 IWC SCHAFFHAUSEN
Pilot's Watch Mercedes-AMG Petronas Formula One™ Team Edition Automatic Chronograph 41mm Titanium and Leather Watch, Ref. No. IWIW388108
PRE-ORDER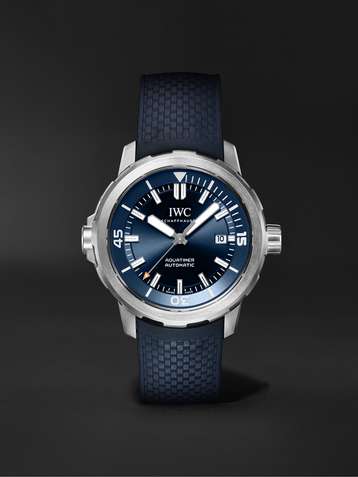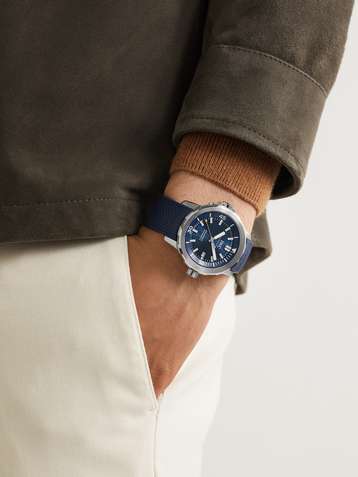 IWC SCHAFFHAUSEN
Aquatimer Expedition Jacques-Yves Cousteau Automatic 42mm Stainless Steel and Rubber Watch, Ref. No. IW328801
IWC SCHAFFHAUSEN
Big Pilot's Automatic 43mm Stainless Steel and Leather Watch, Ref. No. IW329301
IWC SCHAFFHAUSEN
Aquatimer Automatic 42mm Stainless Steel and Rubber Watch, Ref. No. IW328802
IWC SCHAFFHAUSEN
Aquatimer Automatic 42mm Stainless Steel Watch, Ref. No. IW328803
IWC SCHAFFHAUSEN
Big Pilot's TOP GUN Automatic 43.8mm Ceramic And Textile Watch, Ref. No. IWIW329801
IWC SCHAFFHAUSEN
Portugieser Automatic Chronograph 40mm Stainless Steel and Alligator Watch, Ref. No. IW358310
IWC SCHAFFHAUSEN
Aquatimer Automatic Chronograph 44mm Stainless Steel and Rubber Watch, Ref. No. IW376806
IWC SCHAFFHAUSEN
Pilot's Automatic Chronograph 43mm Stainless Steel and Leather Watch, Ref. No. IWIW378001
IWC SCHAFFHAUSEN
Pilot's Automatic Chronograph 43mm Stainless Steel and Leather Watch, Ref. No. IWIW378003
IWC SCHAFFHAUSEN
Pilot's Automatic Chronograph 41mm Bronze and Textile Watch, Ref. No. IW388109
IWC SCHAFFHAUSEN
+ Laureus Sport for Good Portofino 39 Limited Edition Automatic Chronograph 39mm Stainless Steel and Leather Watch, Ref. No. IW391408
LIMITED EDITION
IWC SCHAFFHAUSEN
Pilot's Automatic Chronograph 43mm Stainless Steel and Leather Watch, Ref. No. IW378005
IWC SCHAFFHAUSEN
Big Pilot's Antoine de Saint Exupéry Limited-Edition Hand-Wound 46mm 18-Karat Red Gold and Leather Watch, Ref. No. IW515204
LIMITED EDITION
IWC SCHAFFHAUSEN
Big Pilot's Spitfire Automatic 43mm Bronze and Leather Watch, Ref. No. IW329702
IWC SCHAFFHAUSEN
Big Pilot's Automatic 43mm Stainless Steel and Leather Watch, Ref. No. IW329303
IWC SCHAFFHAUSEN
Pilot's Tophatter Automatic Chronograph 44.5mm Ceramic and Leather Watch, Ref. No. IW389108
IWC SCHAFFHAUSEN
Big Pilot's Automatic 43mm Stainless Steel Watch, Ref. No. IW329304
IWC SCHAFFHAUSEN
Pilot's Mark XX Automatic 40mm Stainless Steel and Leather Watch, Ref. No. IW328201
IWC SCHAFFHAUSEN
Pilot's Automatic Chronograph 41mm Stainless Steel and Leather Watch, Ref. No. IW388103
IWC SCHAFFHAUSEN
Big Pilot's Automatic 46.2mm Stainless Steel and Leather Watch, Ref. No. IW501015
IWC SCHAFFHAUSEN
Pilot's Blue Angels II Limited Edition Automatic Chronograph 44.5mm Ceramic and Textile Watch, Ref. No. IW389109
LIMITED EDITION
IWC SCHAFFHAUSEN
Portofino Hand-Wound Moon Phase 45mm 18-Karat Red Gold and Alligator Watch
IWC SCHAFFHAUSEN
Pilot's Watch Timezoner Le Petit Prince Limited Edition Automatic 46mm Stainless Steel and Leather Watch, Ref. No. IW395503
LIMITED EDITION
IWC SCHAFFHAUSEN
Big Pilot's Perpetual Calendar Rodeo Drive Automatic Perpetual Calendar 46.5mm Ceramic, Titanium and Leather Watch, Ref. No. IW503001
IWC SCHAFFHAUSEN
Pilot's Automatic Chronograph 41mm Stainless Steel Watch, Ref. No. IW388104
IWC SCHAFFHAUSEN
Pilot's Spitfire Automatic Chronograph 41mm Bronze and Leather Watch, Ref. No. IW387902
IWC SCHAFFHAUSEN
Big Pilot's Big Date Spitfire 'Mission Accomplished' Limited Edition Hand-Wound 46.2mm Bronze and Leather Watch, Ref. No. IW510506
LIMITED EDITION
IWC SCHAFFHAUSEN
Pilot's Spitfire Automatic Chronograph 41mm Stainless Steel and Leather Watch, Ref. No. IW387903
IWC SCHAFFHAUSEN
Big Pilot's Heritage Automatic 46.2mm Titanium and Leather Watch, Ref. No. IW501004
IWC SCHAFFHAUSEN
Big Pilot's Automatic 46.2mm Stainless Steel and Leather Watch, Ref. No. IW501001
IWC SCHAFFHAUSEN
Pilot's Timezoner Automatic Chronograph 46mm Stainless Steel and Leather Watch, Ref. No. IW395001
IWC SCHAFFHAUSEN
Pilot's TOP GUN Automatic Chronograph 44mm Ceramic and Leather Watch, Ref. No. IW389001
IWC SCHAFFHAUSEN
Aquatimer Expedition Charles Darwin Automatic Chronograph 44mm Bronze and Rubber Watch, Ref. No. IW379503
IWC SCHAFFHAUSEN
Portugieser Automatic Chronograph 41mm Stainless Steel and Alligator Watch, Ref. No. IW371606
IWC SCHAFFHAUSEN
Pilot's Le Petit Prince Edition Chronograph 43mm Stainless Steel Watch, Ref. No. IW377717
IWC SCHAFFHAUSEN
Pilot's Automatic Chronograph 43mm Stainless Steel Watch, Ref. No. IW377710
IWC SCHAFFHAUSEN
Portofino Automatic 40mm Stainless Steel and Alligator Watch, Ref. No. IW356501
IWC SCHAFFHAUSEN
Pilot's Spitfire Automatic 39mm Stainless Steel and Leather Watch, Ref. No. IW326803
IWC SCHAFFHAUSEN
Pilot's Mark XVIII Heritage Automatic 40mm Titanium and Leather Watch, Ref. No. IW327006
IWC SCHAFFHAUSEN
Pilot's Automatic Chronograph 43mm Stainless Steel and Leather Watch, Ref. No. IW377729
SOLD OUT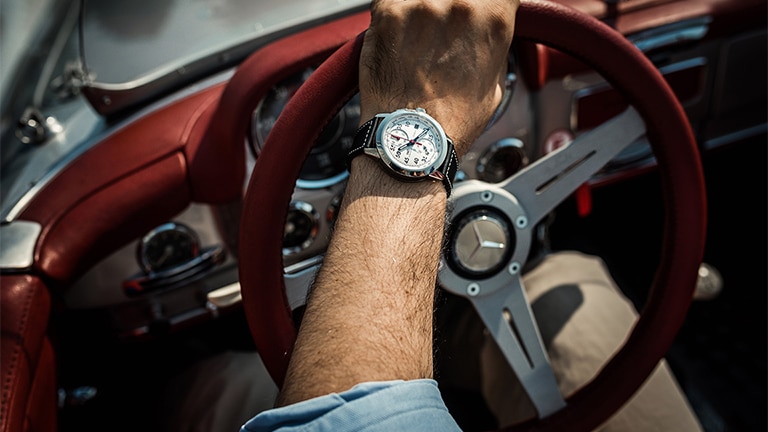 The History
IWC Schaffhausen founder Mr Florentine Ariosto Jones was an American who set up his own high-tech factory in German-speaking Schaffhausen in 1868. From the outset, Mr Jones' International Watch Company harnessed the skills of Swiss workers, the efficiency of US-made machinery and the hydropower of the Rhine. It was a key producer of military watches in WW2, and in the modern era has built on this heritage, combined with the high-end expertise that was revived in the 1980s.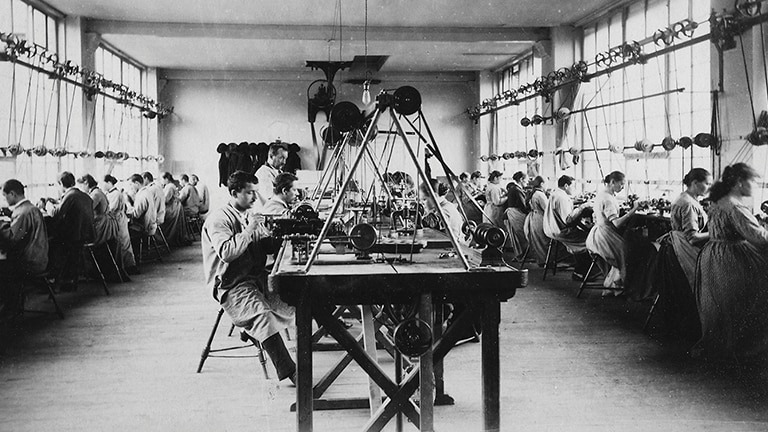 A River Runs Through It
An early investor in sustainable energy, or what passed for it back then, IWC founder Mr Florentine Ariosto Jones deliberately perched his first IWC factory on the banks of the Rhine. Giant paddles fed hydropower into permanently spinning shafts that ran the length of each workshop's ceiling. The watchmakers' lathes and mills all fed off them via belts.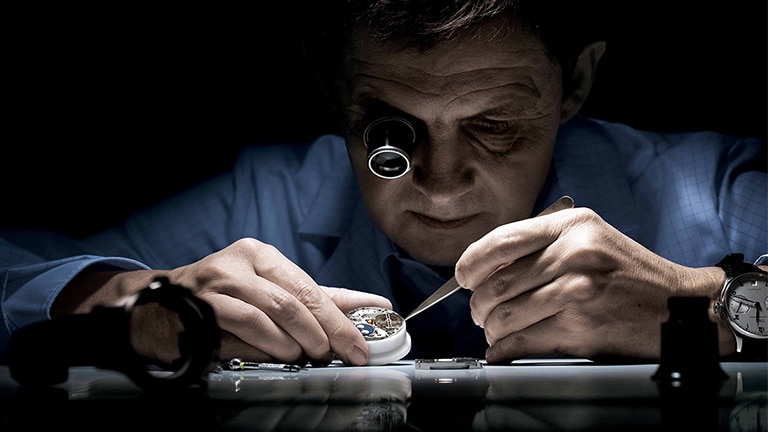 The Collector's Piece
By 1944, just 12 Swiss watchmakers, including IWC, had the job of turning out high-grade wristwear for the Allied infantry, according to the Ministry of Defence's strict WWW (watch, wrist, waterproof) spec of high-legibility ruggedness. To collectors, assembling the complete "Dirty Dozen" suite is the holy grail. To IWC, WWW was the forerunner to its legendary Mark 11 of 1948, which remained in service to RAF pilots until 1981.