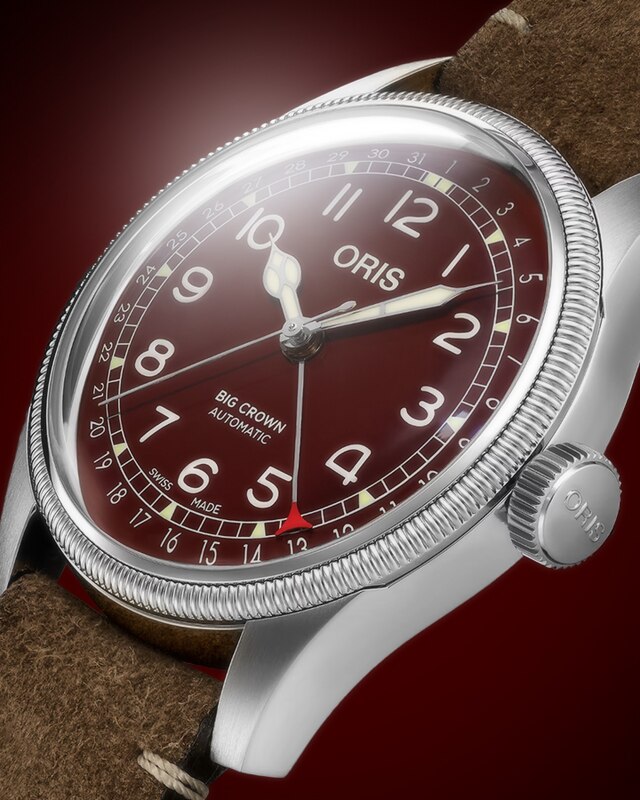 3 MINUTE READ
Under-The-Radar (And Under £1,500) Watches To Mark You Out As A Connoisseur
8 November 2022
You don't have to have the latest Patek Philippe or the hottest limited-edition collab to win the respect of your local watch snobs. There are watches out there, hidden gems that they are, that represent good value for money and also mark you out as a person of great horological taste. Whether you're looking for a dress watch, a dive watch or something for the everyday, these five are our top-secret, in-the-know, so-good-we-can't-believe-we're-sharing-them tips for showing superlative watch taste without going broke.
01.
Big Crown Pointer Date by Oris
You might know Oris, but we bet you know the brand for its Diver's Sixty-Five, the Aquis or its pilot's watches. This model, meanwhile, the unsentimentally named Big Crown Pointer Date, is criminally under appreciated. It comes in a range of colours that you might well describe as "leather-backed books from a posh library" – and various combinations of steel and bronze cases and supple, sustainably-sourced leather straps. Our favourite is this deep burgundy red dial in a 40mm steel case with aged, cream-coloured numerals.
02.
Modello Uno by UNIMATIC
Dive watches rarely come as minimal, or as stylish, as those made by UNIMATIC. The young Italian brand took everything they liked about traditional dive watches, and promptly ditched the rest, resulting in the blocky, ultra-simple design that is the U1. This particular model is a limited edition produced to support Italy's equivalent of the National Trust, the Fondo per l'Ambiente Italiano (FAI) – the green insert to the bezel is a nod to the FAI's signature colour. It also happens to look terrific.
03.
Highlife by Frederique Constant
Are the trends and tastes of the watch world as Greek to you as the contents of a teenager's phone? Then you may not appreciate that for the past few years, collectors have gone absolutely crazy for anything with a so-called "integrated steel bracelet" design (in other words, a watch where the strap lines flow neatly into the case without a break). Watches such as this Frederique Constant, which has all of the late-1970s appeal, plus, a handsome debossed time-zones pattern on the dial, but doesn't require you to wait fruitlessly for several years or take out a new mortgage.
04.
Club Campus by NOMOS Glashütte
NOMOS Glashütte, like Oris, may well be on your radar. However, the Club Campus collection is still less well known than the more austere, traditional models such as the Tangente, Orion and Ludwig collections. Not only is it the most fun set of watches under the NOMOS umbrella, but it's also almost the most affordable. It's distinguished by its colourful dials, thick-set numerals (which use a mix of Arabic and Roman styles) and simple round case, with a solid back that's perfect for personal engravings.
05.
Dato-Racer by Massena LAB
A few years ago, the name Massena LAB was known only to the most hardcore watch enthusiasts. That's changing rapidly, as the New York based brand is unveiling project after exciting project – most recently working with a master Swiss watchmaker to create its own movement. The Dato-Racer is an altogether more straightforward proposition; at a glance, you might take it for a Montblanc Timewalker or similar contemporary design. But the typography, red cross-hair and roulette-style date wheel give it a more edgy character.