Recommended
Recommended
Price Low to High
Price High to Low
New In
BAUME & MERCIER
Clifton Baumatic Automatic Moon-Phase 42mm Stainless Steel Watch, Ref. No. M0A10552
BAUME & MERCIER
Riviera Automatic 42mm Stainless Steel Watch, Ref. No. M0A10620
BAUME & MERCIER
Clifton Club 42mm Automatic Bronze and Rubber Watch, Ref. No. 10516
BAUME & MERCIER
Riviera Automatic 42mm Stainless Steel Watch, Ref. No. M0A10616
BAUME & MERCIER
Riviera Automatic 42mm Stainless Steel Watch, Ref. No. M0A10622
BAUME & MERCIER
Clifton Club Indian Motorcycles Automatic Chronograph 44mm Stainless Steel and Leather Watch, Ref. No. M0A10402
BAUME & MERCIER
Clifton Baumatic Automatic Chronometer 40mm Stainless Steel Watch, Ref. No. M0A10468
BAUME & MERCIER
Clifton Club Automatic Dual Time 42mm Stainless Steel and Leather Watch, Ref. No. 10486
BAUME & MERCIER
Classima Automatic 42mm Stainless Steel and Canvas Watch, Ref. No. M0A10608
BAUME & MERCIER
Classima Automatic Dual Time 42mm Stainless Steel Watch, Ref. No. M0A10483
BAUME & MERCIER
Riviera Automatic 42mm Stainless Steel Watch, Ref. No. M0A10621
BAUME & MERCIER
Clifton Club Automatic 42mm Stainless Steel Watch, Ref. No. 10340
BAUME & MERCIER
Clifton Club Indian Motorcycle Automatic Tachymeter Chronograph 44mm Stainless Steel Watch, Ref. No. M0A10403
BAUME & MERCIER
Clifton Baumatic Automatic Chronometer 40mm Stainless Steel and Alligator Watch, Ref. No. M0A10467
BAUME & MERCIER
Classima Automatic 42mm Stainless Steel Watch, Ref. No. 10481
BAUME & MERCIER
Clifton Baumatic Automatic Chronometer 40mm Stainless Steel Watch, Ref. No. M0A10551
BAUME & MERCIER
Clifton Club Automatic 42mm Bronze and Leather Watch, Ref. No. M0A10565
BAUME & MERCIER
Classima Automatic 42mm Stainless Steel and Leather Watch, Ref. No. 10453
BAUME & MERCIER
Classima Automatic 40mm Stainless Steel and Alligator Watch, Ref. No. 10214
BAUME & MERCIER
Clifton Club Automatic 42mm Stainless Steel and Rubber Watch, Ref. No. 10406
BACK IN STOCK
BAUME & MERCIER
Classima 40mm Stainless Steel and Leather Watch, Ref. No. 10385
EXCLUSIVE
BAUME & MERCIER
Capeland Automatic Chronograph 42mm Stainless Steel and Leather Watch, Ref. No. M0A10451
BAUME & MERCIER
Classima Automatic 42mm Stainless Steel Watch, Ref. No. 10334
BAUME & MERCIER
My Classima 40mm Stainless Steel and Leather Watch, Ref. No. 10389
BAUME & MERCIER
Classima Automatic Chronograph 42mm Stainless Steel Watch, Ref. No. M0A10331
BAUME & MERCIER
Clifton Baumatic Automatic Chronometer 40mm Stainless Steel and 18-Karat Rose Gold-Capped Watch, Ref. No. M0A10458
BAUME & MERCIER
Hampton Automatic 27.5mm Stainless Steel and Alligator Watch, Ref. No. 10522
BAUME & MERCIER
Capeland Automatic Chronograph 42mm Stainless Steel and Leather Watch, Ref. No. M0A10452
BAUME & MERCIER
Classima Automatic 42mm Stainless Steel and Alligator Watch, Ref. No. 10333
BAUME & MERCIER
Classima Automatic Chronograph 42mm Steel and Alligator Watch, Ref. No. M0A10330
BAUME & MERCIER
Classima Automatic 42mm Stainless Steel and Alligator Watch, Ref. No. 10482
BAUME & MERCIER
Classima Automatic 40mm Stainless Steel and Alligator Watch, Ref. No. 10263
BAUME & MERCIER
Classima Automatic Open Balance 42mm Stainless Steel and Alligator Watch, Ref. No. MOA10524
BAUME & MERCIER
Classima Automatic Moon-Phase Calendar Chronograph 42mm Stainless Steel and Alligator Watch, Ref. No. M0A10484
SOLD OUT
BAUME & MERCIER
Clifton Automatic Retrograde Power Reserve 43mm Stainless Steel and Alligator Watch, Ref. No. 10449
SOLD OUT
BAUME & MERCIER
Clifton Automatic Dual Time Power Reserve 43mm Stainless Steel and Alligator Watch, Ref. No. 10316
SOLD OUT
BAUME & MERCIER
Clifton Baumatic Automatic Chronometer 40mm Stainless Steel and Alligator Watch, Ref. No. M0A10517
SOLD OUT
BAUME & MERCIER
Clifton Baumatic Automatic Chronometer 39mm 18-Karat Rose Gold and Alligator Watch, Ref. No. M0A10469
SOLD OUT
BAUME & MERCIER
Clifton Baumatic Automatic Chronometer 40mm 18-Karat Rose Gold, Stainless Steel and Alligator Watch, Ref. No. M0A10519
SOLD OUT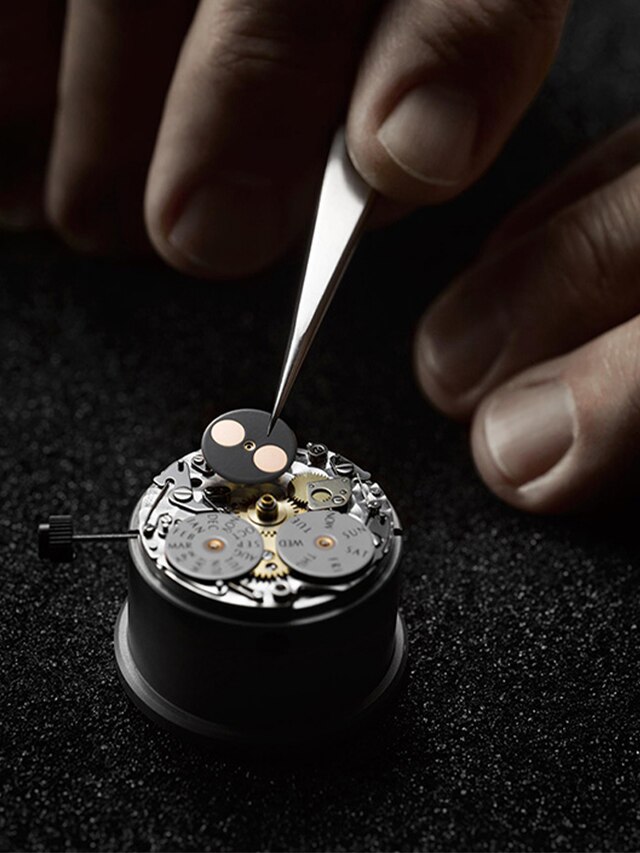 The History
While officially registered in 1830 (making Baume & Mercier the seventh-oldest name in Swiss watchmaking) the "Seigneurs de Baume" of the Jura mountains date back to the Middle Ages, when Messrs Paul and Jean Baume gave local farmers part-time jobs making movements, before becoming a specialist producer of extra-flat watches and elite complications. Today Baume & Mercier flourishes as a watchmaker of copper-bottomed Swiss quality, whose fresh aesthetic suits a young, well-heeled crowd.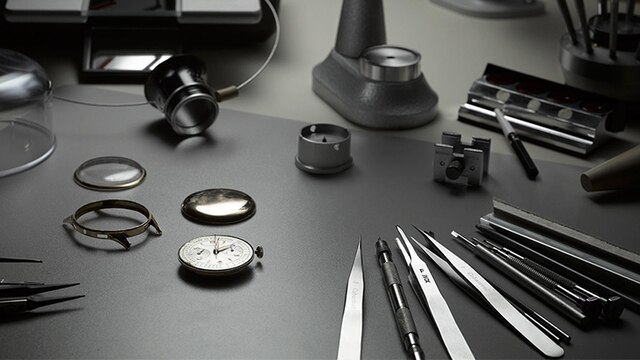 The Everlasting Warranty
Baume & Mercier's modern-day workshops in Les Brenets not only produce new watches, but also repair old ones, under the highly sustainable philosophy of "no Baume & Mercier watch is unrepairable" – even if it involves remanufacturing parts. The oldest timepiece ever received for refurbishment was a handsome pocket watch made in 1870.