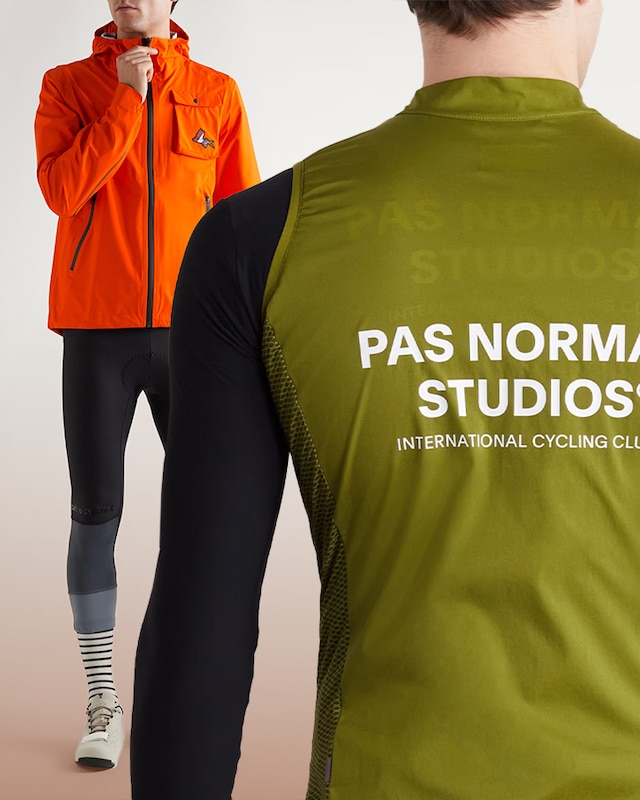 3 MINUTE READ
Unchained? This Is The Cycling Gear You Need This Summer
8 June 2023
Streaming from today, the new Netflix series Tour De France: Unchained promises to do for professional cycling what Drive To Survive, by the same production team, did for Formula 1. As in make the previously uninterested layman suddenly GAF about who is pedalling squares, when is the right moment to stage a breakaway and the average gradient of the Alpe d'Huez. Now that you have "an idea", you are ready for "the gear". Not all of it, mind. Only the good stuff, which should survive this and many other Grand Tours to come (whether or not you do, too). Here's a few pieces to get you started.
01.
The zippy recycled MAAP jersey
There's cycled and then there's recycled. And, sure, there've been times deep into a ride when we're no longer exactly dancing on the pedals, but, in this instance, recycled refers to the entirely repurposed mesh fabric. So, you'll notice the peppy print on this jersey by performance-driven brand MAAP, but kilometres in, hopefully it's the moisture-wicking technology, breathable panel and back pockets for stashing a jacket, bank card and gels that you'll come to appreciate.
02.
The pocketed DISTRICT VISION bib shorts
Purists, look away. DISTRICT VISION's foray into bib shorts feature something once unthinkable – storage. However, if you're bikepacking, this move makes sense. So, ask yourself this: can you ever carry too many flapjacks? And is that a banana in your pocket? Elsewhere, note the comfy padded seat and silicone grips to keep it where it should be. Plus, again a recycled material with antimicrobial properties. In short, great shorts.
03.
The light and bright Café du Cycliste hooded jacket
Best-case scenario, you tuck this piece into your back pocket and never have to think about it, which is easily done given the lightweight (and breathable) material it is fashioned from. But should you need it, this hardy ripstop jacket by Café du Cycliste will keep you dry, with a taped seam and zip and hood that should fit over your helmet. What's more, this French-made layer should get you noticed. See also the brand's striking printed jerseys.
04.
The got-your-back (and front) Pas Normal Studios gilet
Designed with chilly mornings and quick descents in mind, Pas Normal Studios' signature Mechanism gilet will also help keep you out of trouble in passing showers and freak winds. Which doesn't sound like we have much hope for the coming summer, but also it pays to be prepared. It's cut to be race-ready, even if you're not.
05.
The classic square-frame Rapha sunglasses
It's not just the glare of the sun you'll need to keep out of your eyes. Reports suggest our insect populations have declined by an unfathomable 60 per cent over the past 20 years. But just try going for a ride without peeper protection on "flying ant day". Don't let the pleasingly retro look of these Rapha sunnies fool you. Made from the high-performance polymer Grilamid, they are built to stay put.